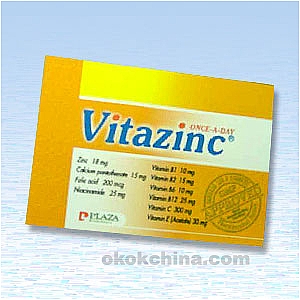 VITAZINC®
Capsules
Composition:
Each capusle contains:
Zinc gluconate (equi. to 25 mg zinc)     . 175 mg
Vitamin A ..                                                      50,OOOIU
Vitamin E.     .                                                  100mg
Properties:
VITAZINC® contains vitamin A which is essential for normal function of the retina and healthy epithelial tissue. Its deficiency leads to xerophthalmia, keratomalacia, nightblindness, dryness of the skin and lowered resistance to infection. VITAZINC@ also contains vitamin E, the powerful antioxidant which protects cellular constituents from oxidation . Vitamin E also facilitates absorption and utilization of vitamin A as well as reducing its toxicity. VITAZINC® contains as well zinc which acts as an integral part of
several enzymes involved in carbohydrate and protein metabolism. Its deficiency manifestations include hypogonadism, alopecia, growth retardation, impaired healing, impaired reproduction in males, impaired taste and olfactory sensations. VITAZINC® is an oral zinc preparation for use when inadequate diet calls for supplementary zinc and for the treatment of demonstrated zinc deficiency.
Indications:
– Certain skin diseases as : Acne vulgaris, Alopecia, Psoriasis.
– Male infertility and impotence.
– Xerophthalmia, Keratomalacia, Nightblindness.
– Bed sores, Chronic leg ulcers, and Burns to promote rapid healing.
– Improvement of smell and taste sensations.
– Geriatrics .
Dosage and Administration :
One to three capsules daily, or as directed by the physician.
Contra-indications :
During pregnancy and lactation.
Presentation :
30 soft gelatin capsules
This is a Medicament
-Medicament is a product which affects your health, and its consumption contrary to
instructions is dangerous for you.
-Follow strictly the doctor's prescription, the method of use, and the instructions of the
pharmacist who sold the medicament.
-The doctor and the pharmacist are experts in medicine, its benefits and risks.
-Do not by yourself interrupt the period of treatment prescribed.
-Do not repeat the same prescription without consulting your doctor.
-Keep all medicines out of reach of children.
MANUFACTURED BY:
E.I.P.I.CO.
EGYPTIAN INT. PHARMACEUTICAL INDUSTRIES CO.
TENTH OF RAMADAN CITY A.R.E.