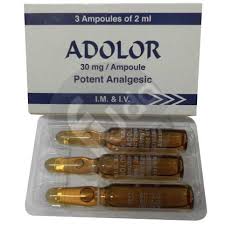 ADOLOR AMPOULES (I.M. & I.V.)
Potent Analgesic
Composition :
Each 1 ml contains:
Ketorolac tromethamine 15 mg
properties :
adolor is ahighly potent injectable analgesic for management of postoperative and other types of moderate to severe acute pain adolor is amember of the nonsteroidal anti inflammatory drugs with mild antipyretic effect adolor rapidly relieves pain by inhibiting the synthesis and actions of prostaglandine and other pain mediators the analgesic efficacy of adolor is equipotent to that of morphine and superior to that of meperidine however its use is devoid of the adverse effects of narcotics such as respiratory depression, nausea, vomiting, sedation, disturbance of blood pressure and heart rate or tolerance. AOOLOR is used as monotherapy with rapid onset of analgesia ( within 1 minute after I. V. and 10 minutes after LM. ) and long duration of action (up to 6 hours). When the use of opioids is unavoidable, ADOLOR can be added
to the therapeutic regimen to improve the quality of analgesia reduce the required dose of opioids and minimize the associated adverse effects adolor is well tolerated and non irritant at the injection site
Pharmacokinetics :
Following ADOLOR administration, peak plasma concentrations of ketorolac are achieved immediately after I.V. and within 30
to 50 minutes after I.M. The drug is distributed to body fluids and tissues but it does not readily cross the blood brain barrier.
Ketorotac is about 99% bound to plasma proteins. It IS eliminated from the body partly unchanged in the urine and partly by
hepatic metabolism. The plasma half-life ranges from 4 to 6 hours and is increased in the elderly and In patients with renal or
hepatic dysfunction. Ketorolac crosses the placenta and only a small amount of the drug appears in breast milk.
Indications :
– Post-operative pain following abdominal, gynecologlcal, orthopedic or orodental surgery.
– Post-traumatic pain.
– Renal and biliary colic.
– Visceral pain associated with cancer.
Dosage :
Adults up to 65 year. : 15 – 30 mg every 6 hours. The'maximum daily dose should not exceed 120 mg.
adults over 65 years or with body weight less than 50 kg and patien ith renal Impairment : 15mg every 6 hours. The maximum daily dose should not exceed 60 mg
N.B. : – I.m ketorolac should be injected slowly and deeply into alarge muscle .
– Treatment with ketorolac should not exceed 5 days.
Contraindications :
– pregnancy,NursinQ mothers and Pediatric use:
do not administer injections preserved with benzyl alcohol has been associated with serious adverse events and death particularly in pediatric patients (it may cause Gasping Syndrome).
Injections preservative free should be used in these populations.
– hypersensitivity to ketorolac, active peptic ulcer, severe renal impairment, hemorrhagic or bleeding abnormalities, labor and delivery
– In addition, ketorolac as other NSAIDS is contraindicated during pregnancy and lactation.
Precautions :
NSAIDs should be used with caution in patlerrts'wrtn Impail'ltd renal or hepatic function, hypenension and bronchial as'ffima.
Warnings :
Cardiovascular Risk·: NSAIDs may cause an increased risk of serious cardiovascular thrombotic events, myocardial
infarction, and stroke, which can be fatal. This risk may increase with duration of use. Patients with cardiovascular diseases or
risk factors for cardiovascular diseases may be at greater risk.
NSAIDs is contraindicated for the treatment of peri-operative pain in the setting of coronary artery by pass graft (CABG)
surgery.
Gastrointestinal Risk·: NSAIDs cause an increased risk of serious gastrointestinal adverse events including inflammation,
bleeding, ulceration, and perforation of the stomach or Intestine, which can be fatal. These events can occur at any time during
use and without warning symptoms elderly patients are at greater risk for serious gastrointestinal events.
– This product contains benzy1 alcohol which Is potentially toxic when administered locally to neural tissues.
Side effects :
As with other NSAIDs, GI disturbances, prolongation of bleeding time, edema or allergic skin reactions might occur.
Packing :
A box containing 3 ampoules, 1 ml each ( 15 mg 11 ml). Council of
A box containing 3 ampoules, 2 ml each ( 30 mg 12 ml ).
Storage :
Union of Arab Pharmacists.
Keep at temperature 15 – 30′" C, away from light.
Keep out of the reach of children.
Produced by :
Pharco B International for Pharco Pharmaceuticals