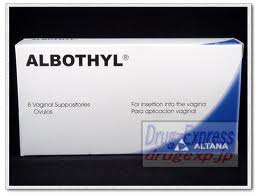 ALBOTHYL ® vaginal suppositories
for insertion into the vagina
Policresulen
Composition :
1 vaginal suppository contains:
Active ingredient :Policresulen 90 mg
Pharmaceutical form and contents :
Vaginal suppositories
Pack with 8 vaginal suppositories
Indications :
Local treatment of cervicovaginal inflam- mations or infections and tissue damage (e.g. vaginal and cervical discharge caused by bacteria, trichomonads and fungal infections, pressure sores in diaphragm users), condyloma acuminatum, etc.
Contraindications :
Albothyl vaginal suppositories must not be administered in cases of hypersensitivity to one of its constituents
Pregnancy and lactation :
Albothyl vaginal suppositories may be use during pregnancy and breastfeeding only
where it is strictly indicated, after due  consideration of the risks to the mother and child. There have not been any studies of the risks associated with use during pregnancy in humans, but animal studies have not yield any evidence of fetal malformation. It is not known whether the active substance passes into milk.
Special warnings and precautions for use :
– Care must be taken not to swallow the suppositories. If Albothyl vaginal suppo-
sitories have been swallowed inadvertently, you should immediately drink plenty of
water and consult your doctor.
– Albothyl vaginal suppositories cause a sharp stimulation of the healing processes. There is no cause for concern if necrotic tissue from the diseased area is sloughed off even- in large amounts.
– During the treatment period the use of soaps which cause irritation as well as sexual
intercourse must be avoided.
– Like all vaginal therapeutics, Albothyl vaginal suppositories should not be used during menstruation.
– Protect your eyes from Albothyl vaginal suppositories. In case of contact with
Albothyl vaginal suppositories, the eyes must be thoroughly rinsed out at once with
water, it may be necessary to consult an ophthalmologist.
– If textiles or leather come into contact with Albothyl vaginal suppositories, they
should be immediately rinsed with water before drying.
Effects on the ability to drive and to use machines :
There are no known effects on the ability to drive or to operate machinery.
Interactions :
Albothyl vaginal suppositories are intended exclusively for local use. The use of other local drugs on the same area should be avoided during treatment with Albothyl, since
interactions cannot be ruled out. Please note that this information also applies
to drugs which you might have used recently.
Posology and method of administration :
The following information applies unless Albothyl vaginal suppositories have been
otherwise prescribed by your doctor. Please follow these instructions, as otherwise
Albothyl vaginal suppositories may not have the desired effect. Depending on the severity of the condition, one vaginal suppository is adminstered every
other day.
Instructions for use I handling :
The vaginal suppository should be intro- duced in the evening. To facilitate its introduction, the suppository may be moistened with water and then, preferably in the supine position, introduced deep into the vagina.
The additional use of a sanitary towel avoid soiling of clothing and bedding.
The duration of use depends on the nature and severity of the condition and is
determined by the doctor.
Incorrect use and overdosage :
Incidences of overdosage are not known. If you forgot an application, do not use twice
as many the next time, but continue the treatment at the specified intervals. Inform
your doctor accordingly. If you should wish to interrupt your treatment please notify your doctor.
Undesirable effects :
Local irritation may be observed in isolated cases at the beginning of treatment with
Albothyl vaginal suppositories, however, such irritation generally clears up quickly.
In the event of severe local irritation you must stop using Albothyl vaginal suppositories and notify your doctor. If you experience any side effects not listed in
this package leaflet, make sure you inform your doctor or pharmacist.
Storage conditions and shelf life :
Albothyl vaginal suppositories stored below 25 QC.
Note :
Any spots on the vaginal suppositories are due to the natural appearance of the
suppository base and do not affect the applicability, effectiveness and tolerability.
Manufactured by:
Marcyrl for AUG under license of NYCOMED