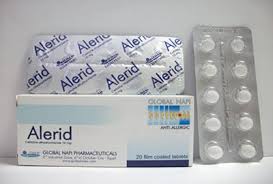 Alerid
Composition:
Each 5 ml contains 5 mg cetirizine dihydrochloride.
Inactive ingredients: Methyl paraben, propyl paraben, sucrose, glycerin, citric acid, sodium citrate, propylene glycol, soluble mandarin, purified water & sunset yellow Each film-coated tablet contains 10 mg ceririzine dihydrochloride.
Inactive ingredients: lactose monohydrate, pre-gelatinized
starch, croscannellose sodium, talc, magnesium stearate, colloidal silicon dioxide, opadry white.
Pharmacodynamics :
Alerid, ceririzine dihydrochloride, is a piperazine derivative &
metabolite of hydroxyzine. Cetirizine is a non-sedating, selective antagonist of the peripheral histamine (H,) reeeptor, with negligible
anticholinergic & antiserotonergic activity. It has been shown
negligible penetration into the brain. It is reported to be long-acting & with some mast-cell stabilising activity.
Pharmacokinetics :
Cetirizine is rapidly absorbed from the gastrointestinal tract after oral administration, peak plasma concentration is reached after one hour. Food delays the time to peak plasma concentrations but does not decrease the amount of drug absorbed. Dose can be taken without regard to food consumption.
It is highly bound to plasma proteins (93%) & has an elimination half-life of 8.3 hours. It has been detected in breast milk. It does not appear to cross the blood-brain barrier to a significant extent.
It is excreted primarily in the urine mainly as unchanged drug.
ndi ·a ions.
Indications :
– Symptomatic relief of seasonal & perennial allergic rhinitis (hay fever) or vasomotor rhinitis, reducing rhinorrhoea & sneezing but less effective for nasal congestion.
– Auergic conjunctivitis.
– Adjuvant therapy in allergic asthma.
– Chronic idiopathic urticaria.
– Drug allergies & allergic dermatological disorders, e.g. urticaria, pruritus, insects bites or stings, atopic dermatitis & eczema.
Side effects :
Reports of mild & transient side effects such as headache, dizziness, drowsiness, agitation, dry mouth & gastrointestinal discomfort.
Contraindications :
In patients with a history of hypersensitivity to cetirizine or any ingredient of the product.
Precautions :
Pregnancy: Safety for use during pregnancy has not been established. Use only when clearly needed & when the potential benefits outweigh the potential hazards to the fetus. Do not use during the third trimester.
Lactation: As it is excreted in breast milk, it is not recommended in lactating women. Studies have not revealed effects on alertness or reaction time, however, patients are advised not to exceed the recommended dose if driving or operating machinery.
Dosage & administration :
Alerid Syrup:
Adults & children over 6 years of age: Tbe recommended dose is 10 ml (10 mg) once daily or 5 ml (5 mg) twice daily.
Children between 2 to 6 years: The recommended dose is 5
ml (5 mg) once daily or 2.5 ml (2.5 mg) twice daily.
Alerid Tablets:
Adults & children over 12 years of age: One tablet 10 mg to be taken daily.
N.B: However, in patients with renal or hepatic insufficiency,
dosage should be reduced to half the daily dose.
Presentation:
– Alerld syrup is supplied in bottles of 100 ml each.
– Alerid tablets are supplied in boxes of20 tablets each.
– Store at temperature not exceeding 30·C, in dry place.
– I Keep out of reach of children I
Produced by :
GLOBAL NAPI PHARMACEUTICALS
6″ of October City – Egypt