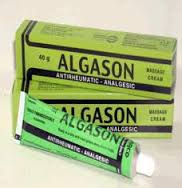 Algason  Massage Cream
Antirheumatic Analgesic
COMPOSITION:
Each 100 g cream contains :
Diethylamine salicylate            10 gm
Menthol                                       2.5 gm
Camphor                                     1.4 gm
Excipient q.s                              100 gm
PROPERTIES:
Produced according to scientific pharmacological data, Algason massage cream is readily absorbed throught the skin. This property provides a high concentration of the active ingredients at the site of pain and consequently causes a noticeable pain relief at the very first application. Prepared in the form of a highly – penetrating white
lightly scented with lavender, Algason massage cream gives a pleasant sensation of freshness felt as soon as applied.
INDICATIONS:
– For fast relief of musculo – skeletal pain, inflammation and discomfort as in arthritis, bursitis, rheumatism, low – back pains, muscular aches, neuralgia and traumatic pains or sprains.
– To relieve muscle pains and stiffness caused by weariness or over
– excertion in athletes.
PRECAUTIONS & CONTRA -INDICATIONS:
None have been reported.
MODE OF APPLICATION :
The cream is applied to the whole painful area with gentle massage until it is completely absorbed into the skin. The application is repeated three or four times daily, or as prescribed by the physician. Algason massage cream is used by professionals for rubdowns or massages, is very efficient for athletes in relieving muscle pains and stiffness caused by weariness or over – excertion .
PACKING:
A tube containing 40 g cream.
storage:
– Keep at temperature (15 – 300 C ) .
– Keep out of the reach of children.
PRODUCED BY :
MADE IN EGYPT IN PHARCO PHARMACEUTICALS