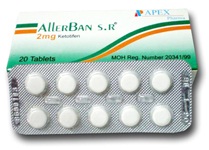 Allerban S.R Tablets
Allerban Syrup
An asthma prophylactic and anti-allergic agent.
Composition :
Ketotifen fumarate
– Slow release oral tablets (Allerban S.R) 2 mg/tab.
– Syrup 1 mg I 5 ml
Pharmacology :
The mechanism of Allerban's marked anti-anaphylactic properties is due to inhibition of release of local mediators from tissue mast cells and basophils, in particular slow reacting substance and histamine and to the inhibition of SRS induced bronchospasm in vivo. In addition, Allerban exerts a sustained inhibitory effect on histamine reactions which can be clearly dissociated from its anti-anaphylactic
properties. Allerban reduces the number of asthmatic attacks, the severity of attacks and their duration when given as a prophylactic
treatment. Allerban does not abort established attacks of asthma.
The slow release of Ketotifen from Allerban S.R tablets leads to a smoother pharmacokinetic profile than the normal form, allowing once a day administration. Allerban S.R leads to the same minimum
plasma concentration and a lower maximum plasma concentration if compared with thesame dose of the normal form of Ketotifen,
therefore, the daily variation of plasma concentration is lower with the Allerban S.R tablets than with the normal form. The relative bioavailability of the Allerban S.R tablets is more or less similar to the bioavailability of the normal form.
Indications :
– Prophylactic treatment of bronchial asthma.
– Prophylactic and symptomatic treatment of allergic conditions including allergic skin reactions, rhinitis and conjunctivitis.
Dosage and Administration :
Adults:
One Allerban S.R tablet (2mg) in the evening. In patients susceptible to sedation, a gradual dose increase is recommended during the first week of treatment starting with half tablet in the evening and increasing to the full therapeutic dose. The adult prescribing limit
is up to 4 mg a day in two divided doses.
Children:
From 6 months to 3 years: 2.5 ml syrup twice daily.
3 years and above: similar to the adult doses.
Contraindications :
There are no known contraindications.
Precautions :
With patients who are using other anti- asthmatic medications for long period, sudden withdrawal of the existing treatment could
exacerbate asthmatic attacks. To avoid this, it is important to oontinue the existing treatment for a minimum of 2 weeks after starting Allerban therapy. This particularly applies to those patients who were taking systemic corticosteroids and ACTH. During the first few days of treatment with Allerban, the normal reflexes may be impaired. Patients should be warned not to take change of vehicles or machinery until the effect of Allerban treatment is clearly manifested. In rare cases, patients who are receiving oral anti -diabetics may be susceptible to a reversible fall in the thrombocyte count if they use ketotifen concomitantly. Therefore, thrombocyte count should be carried out for those patients.
Side Effects :
Drowsiness and in rare cases, dry mouth and slight dizziness may occur at the beginning of the treatment, but usually disappear
spontaneously after few days. Weight gain may occasionally occur.
Interactions :
Allerban may potentiate the effect of sedatives, hypnotics, antihistaminics and alcohol.
Package :
Allerban tablets S. R 2mg : pack of 20 tablets.
Allerban syrup 1 mg I 5 ml : bottle of 100ml.
I Keep medicine out of reach of children
Manufactured by :
Multi-Apex
Pharma S.A.E· Badr city. Cairo Egypt.