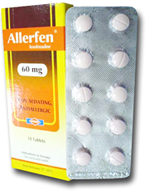 Allerfen Fexofenadine Hcl
Non Sedating Third Generation Antiallergic
Composition :
Each fablet contains:
fexofenadine HEI 60 mg or 180 mg .
Properties :
Fexofenadine (Allerfen@) is the active metabolite of terfenadine.
It is referred to as non-sedating antihistamine with selective peripheral H l-~ceptor antagonist effect, Fexofenadine (Allerfen ) has a rapid long lasting
activity with no anticholinergic effect at the recommended dosage.
Pharmacokinetics :
-Fexofenadine hydrochloride is rapidly absorbed into the body following oral administration with T max occurring 1-3 hours post dose
-Fexofenadine undergoes negligible hepatic and non-hepatic metabolism
-The major route of elimination is believed to be through.biliary excretion.while 10% of the ingested dose is excreted unchanged through the urine
Indications :
Allerfen is indicated for the relief of symptoms associated with:
«!\ Allergic rhinitis and sinusitis
«!\ Allergic skin conditions as pruritus and urticaria
«!\ Allergic conjunctivitis
Dosage and Administration :
• Adults and children> 12 years of age:
– Allergic rhinitis and conjunctivitis 120 mg daily as single or 2 divided doses.
– Allergic skin conditions 180 rug/day .
• Children 6-12 years of age: 30 mg (1f2 tab of 60 mg.) twice daily
Contraindications :
Patients who are hypersensitive to the active ingredients
Precautions :
A dose of one tablet (60 mg) once daily is recommended as the starting dose in patients with decreased renal function.
Adverse reactions :
-Very minimal adverse reactions has been observed during the use of Fexofenadine ,and was similar to placebo.
-The commonly observed adverse reactions are Drowsiness 1.3% fatigue 1.3% and headache 1%
Pregnancy and Lactation :
There are no adequate and well controlled studies in pregnant and lactating women.
How Supplied :
• Tablets 60 mg: Strips of 10 tablets in packs of 1 strip or 2 strips.
• Tablets 180 mg: Strips of 5 tablets in packs of 2 strips.
Keep all medicaments out of reach -of children
Product of:
AMOUN PHARMACEUTICAL Co. SA£.
EI-Obour City, Cairo, Egypt.