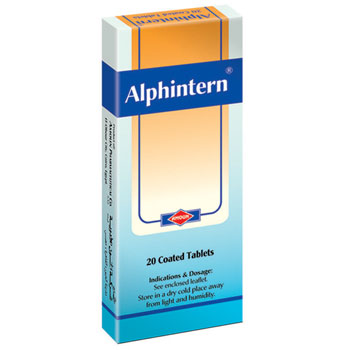 alphintern
Anti-inflammatory and anti-edematous
Composition :
Each tablet contains:
Chy:notrypsin     300 EAU. (14f.! Katals).
Trypsin     300 EAU. (Sf.! Katals).
Excipient q.s. ad one coated tablet of 0.24g,
gastroresistant and enterosoluble.
Properties :
alphintern® has a synergistic, anti-inflammatory ana anti-e ematous action of two potent proteolytic enzymes, affecting the exudative phase of inflammation and ensuring the destruction of peptidic chains in inflammatory processes, regardless of the origin. The gastroresistant and enterosoluble coating of
alphintern® tablets ensures best tolerance as well as best efficiency due to its absorption in the intestine only.
Indications :
Inflammatory conditions and related painsregardless of the origin and localization, especially in:
Traumatology & Surgery:
Preventive and curative treatment of post-
traumatic and postoperative edemas and hematomas
Sprains, hematomas, sequelae of fractures and
postoperative edemas
Pharyngitis, laryngitis, sinusitis, otitis and
inflammations of the eustachean tube
Ophthalmology:
Eye trauma, postoperative and vitreous hemorrhage
Pneumology:
Bronchopulmonary     inflammations     and
tracheobronchitis
Stomatology:
Teeth extractions, periodontium and gum inflammations, and stomatological and maxillofacial surgery
Gynecology:
Pelvic inflammatory diseases, perineal edema and mastitis
alphintern® also improves the diffusion in situ of antibiotics, especially in the E.N.T. bronchopulmonary and stomatological spheres.
Contralndlcations :
Known     hypersensitivity     to     trypsin     or chymotrypsin.
Precautions :
In case of infections alphintern® should be associated with antibiotics.
Dosage & Administration :
One to two tablets 3 times daily to be swallowed and not chewed, or as prescribed by the physician.
How Supplied :
Strips of 10 tablets in packs of 2 strips.
Keep all medicaments out of reach of children
Product of:
AMOUN PHARMACEUTICAL Co. SAE.
EI-Obour City, Cairo, Egypt.