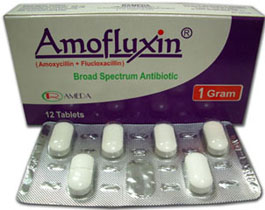 Amofluxin
Amoxycillin + Flucloxacillin
Broad Spectrum Antibiotic
COMPOSITION:
Each capsule contains:
Amoxycillin (as trihydrate) 250mg
Flucloxacillin (as sodium) 250mg
Each tablet contains:
Amoxycillin (as trihydrate) 500 mg
Flucloxacillin (as sodium) 500 mg
ACTIONS:
Amofluxin is an inseparable combination of amoxycillin and flucloxacillin to exhibit a bactericidal action against a wide range of Gram-positive micro-organisms (non-penicillinase, penicillinase-producing Staphylococci and Streptococcus spp.) and Gram-negative micro-organisms (E. Coli, H. influenzae, N. Gonorrboeae, Salmonella enteritis & P. mirabilis) in addition to anaerobic micro-organisms (Clostridium spp., Peptococcus and peptostreptococcus spp.).
PROPERTIES:
Both amoxycillin and flucloxacillin are well absorbed when given orally and have gastric stability. Amoxycillin (aminopenicillin) is more rapidly and completely absorbed than ampicillin and produces a higher peak plasma concentration of similar dose of ampicillin. Flucloxacillin (isoxazolyl penicillin) is better absorbed than cloxacillin sodium and characterized by its successful resistance to penicillinase-producing Staphylococci.
INDICATIONS:
Amofluxin  as a broad spectrum antibiotic acting on both Gram-positive and Gram-negative bacteria including penicillinase producing Staphylococci and anaerobic bacteria is indicated for the treatment of such cases:
* Respiratory tract infections.
* Ear, Nose and throat infections.
* Urinary tract infections.
* Gastro-intestinal infections.
* Biliary-tract infection.
* Surgical prophylaxis.
* Skin and soft tissue infections.
* Pelvic infections.
* Mouth infections.
* Bones and joints infections.
* Septicaemia.
* Endocarditis.
DOSAGE and ADMINISTRATION:
Capsule: Adults and children over 12 years: 1-2 capsules every 6-8 hours.
Tablet:     I Tablet every 12 hours.
Doses should be reduced in severe renal failure.
SIDE EFFECTS:
Generally Amofluxinis well tolerated and the incidence of side effects as with other penicil1ins is usually mild and transient including diarrhoea and skin rash .
PRECAUTIONS:
Pregnancy and lactation to be used with caution during the first trimester of pregnancy and during lactation as it may be secreted in very small amounts in breast milk.
CONTRAINDICATIONS :
History of hypersensitivity to penicillins or cephalosporins .
PACKING:
Box of 12 Capsules 500 mg.
Box of 12 Tablets I g.
STORAGE:
Keep in adry place at room temperature
Keep all medicaments out of reach of children
Tablets Manufactured by:
Medical Union Pharmaceuticals( Mup) for Tenth of Ramadan
for Phannaceuticallndustries & Diagnostic Reagents (rameda)