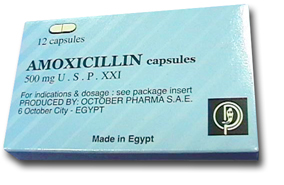 Amoxicillin capsules
Broad spectrum antibiotic
Composition:
Each capsule contains:
Amoxicillin trihydrte 574 mg eq. to Amoxicillin     500 mg
Properties & action :
Amoxicillin is a highly potent, broad spectrum antibiotic with rapid onset of action . It is completely absorbed from the small intestine and it is
unaffected by meals. Due to its broad action spectrum, it is active against both gram positive and gram-negative, micro-organisms including haemolytic & non haemolytic
streptococci, Bacillus anthracis, Corynebacterium and most strains of enterococci.
Among the gram negative organisms are: Proteus mirabilis, Brucella, Neisseria gonorrhea,H. influenza,Salmonella,Shigella and Escherichia coli. More than half of the oral dose is excreted in urine in an active form, so it is highly effective in urinary tract infections.
Indication :
Amoxicillin is used in the treatment of different body infections e.g
Respiratory tract infections:
– Upper airways and ENT infections: Laryngitis, Pharyngitis, Tonsillitis, Otitis media.
– Lower airways infections: acute and chronic Bronchitis, Pneumonia, and Lung abscesses.
Urogenital infections:
– Acute & chronic Pyelonephritis, Pyelitis, Prostatitis.
– Cystitis, Urethritis and Gonorrhea .
Gastrointestinal infections:
– Typhoid fever & paratyphoid.
– Shigellosis.
– Infections of the biliary system .
Skin & soft tissue infections:
Cellulitis, Pyoderma, Erysipelas and Lymphangitis.
Dosage:
In general the total daily dose ranges from 1-3 gm in divided doses. In severe cases, the daily doses may be increased up to 8 gm.
Side effects :
Occasional transient side effects are mostly gastrointestinal (nausea & diarrhea).
Precautions :
Amoxicillin should be used with caution in patients sensitive to penicillin and with known history of allergy.
Packages:
Boxes of 12 capsules (2 strips each of 6 capsules).
Do not store above 30°C, keep dry.
Manufactured by:
Misr co. for pharmaceutical industries for October pharma S.A.E.
6 October City – EGYPT