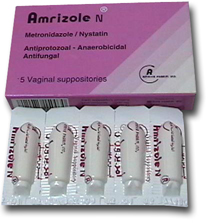 Amrizole N
Vaginal Suppositories
Metronidazole I Nystatin
Antiprotozoal – Anaerobicidal – Antifungal
COMPOSITION:
Each vaginal supp. contains:
Metronidazole                      500mg
Nystatin                                  100000 units
PROPERTIES:
Amrizole N vaginal suppositories contain Metronidazole, an effective agent in the prophylaxis and treatment of protozoal infections as Trichomonas vaginal is, and of anaerobic vaginal infections such as those with Bacteroides, Clostridia, Fusobacteria .. etc. It also contains Nystatin which has fungistatic and fungicidal activity against a wide variety of yeasts, yeast-like fungi and Candida albicans. The local use of Metronidazole has the advantage of reducing the anaerobic population of the female genital organ without a significant systemic effect.
INDICATIONS:
– Local treatment of vulvovaginal candidiasis caused by Candida albicans and other Candida species.
– Prophylaxis and treatment of Trichomonas vaginalis infection.
– Prophylaxis ana-treatment of anaerobic vaginal infections including those with Bacteroides, Clostridia or Fusobacteria.
DOSAGE:
One vaginal suppository daily for 10 – 14 days.
N. B. in cases of Trichomonas vaginalis and anaerobic vaginal infections, concomitant treatment of the sexual partner is strongly recommended (l Amrizole tab. 250 mg three times daily for 10 days).
SIDE-EFFECTS:
Nystatin and Metronidazole are well tolerated by all age groups, even on prolonged administration, but rarely irritation, sensitization, darkening of urine or transient rashes may occur.
PRECAUTIONS:
The use of Amrizole N vaginal suppositories during pregnancy and lactation should be under strict medical supervision.
CONTRA-INDICATIONS:
Known hypersensitivity to Metronidazole or Nystatin.
PRESENTATION:
Box of 5 vaginal suppositories.
Produced by:
AmAIYA PHAAm. InD.
ALEXANDRIA_EGYPT