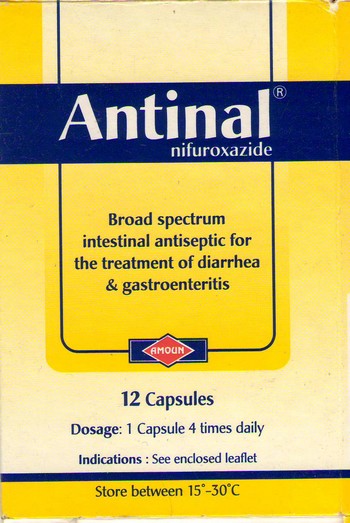 antinal
Capsules & Suspension
Broad spectrum intestinal antiseptic
for the treatment of.diarrhea &
gastroenteritis
Composition :
Cap ules; EilCh–'ilRSYk contains nifur xazide 200 mg.
Suspension: Each 5 mL suspension contains
nifuroxazide 220 mg.
Properties :
– Antinal'" has a wide bactericidal activity against Gram positive and Gram negative enteropathogenic bacteria, e.g., Staph. Slrept, Campylobacter, Shigella, Salmonella, E. coli and Yersinia.
– Antinal® ensures rapid clinical response, reducing the risk and severity of dehydration.
– Antinal® is nonabsorbable, locally acting intestinal antiseptic, free from systemic side effects.
– Antinal® does not develop plasmid resistance and is
effective a~ainst antibiotic-resistant bacteria.
– Antinal activity is not affected by. the pH of the stomach or by food.
– Antinal'" has an excellent tolerability and a wide safety margin, therefore it can be prescribed safely uring pregnancy, acta Ion an in In ancy.     ~
. Indications :
~ Acute and chronic diarrhea
~ Gastroenteritis
~Acute and chronic colitis
~ Intestinal antiseptic in all other types of diarrhea and intestinal infections
~ Traveller's diarrhea.
Dosage :
Unless otherwise prescribed by the physician, the usual
dose is:     .
Adults: 1 capsule 4 times daily .
Children:
– Below 2 months:
1 teaspoonful (5 ml) twice daily.
– 2 months – 1 year:
1 teaspoonful (5 ml) 3 times daily.
– Over 1 year:
1 teaspoonful (5 ml) 4 times daily.
N.B.: The dose can be increased according to the
clinical response.
How Supplied :
Capsules: Strips of 12 capsules in packs of 1 or 2 strips.
Suspension: Bottles of 60 ml..
Keep all medicaments out of reach of children
Product of:
AMOUN PHARMACEUTICAL CO.
El-Obour City, Cairo, Egypt. S.Al