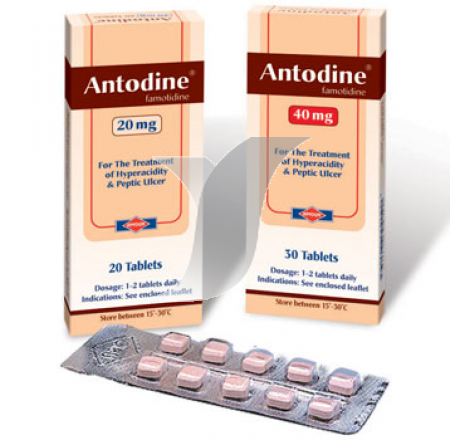 Antodine
Famotidine
For gastritis & duodenitis
Composition :
– Tablets: Each tablet contains 20 or 40 mg famotidine.
– Effervescent tablets: Each effervescent tablet contains famotidine 20 mg.
– Suspension: Each 5 ml after constitution contains 40 mg of famotidine.
Properties :
• Antodine" (famotidine) inhibits HCI secretion through antagonism to histamine H2 receptors on the parietal cells. It does not affect cytochrome P450; therefore it has no drug-drug interactions. Also, famotidine has no antiandrogenie-activity like other+12 receptor antagonists.
• Antodine" (famotidine) is well absorbed after oral administration and reaches its peak concentration in plasma in two hours. Antodine" effervescent tablets have a rapid absorption profile which ensures fast relief of symptoms.
• Antodine" (famotidine) has the longest half life with prolonged duration of action in comparison with other group members. It is weakly bound to plasma proteins (about 20%). A small proportion is metabolized in the liver; however it is mostly excreted unchanged in the urine.
Indications :
– Gastritis and duodenitis
– Dyspepsia and hyperacidity
– Peptic ulcer (gastric and duodenal ulcers)
– Reflux esophagitis
– Pathological hypersecretory state (e.g. Zollinger-Ellison syndrome)
– Concomitantly with cortisone or nonsteroidal anti-inflammatory drugs N.B: Antodine" effervescent tablets are used when a faster relief is required, also for the elderly who have difficulty in swallowing tablets.
Precautions :
– in patients allergic to famotidine or other h2 blockers
–  Antodine" (famotidine) is used during pregnancy and lactation when recommended by the physician. Famotidine is considered category B according to the FDA classification so it is used with no evidence of risk in human, also because it is less excreted in breast milk, so it is the H2 blocker of choice to be used during lactation.
–  In severe renal insufficiency (cr cl <1 O/min), the daily dose is reduced to 20 mg at bedtime.
Adverse Effects :
The drug is well tolerated by most patients. Yet it may rarely cause
diarrhea, dizziness, headache=rash, liver enzyme abnormalities, hepatitis, constipation or vomiting.
Dosage And Administration :
Hyperacidity: 20-40 mg at bedtime for 4-6 weeks.
–  Duodenal and gastric ulcers:
Initial dose: 40 mg at bedtime for 4-8 weeks.
Maintenance dose: 20 mg at bedtime.
Reflux esophagitis: 40 mg twice daily for up to 12 weeks.
– Zollinger – Ellison syndrome:
20 mg 4 times daily, higher doses up to 160 mg 4 times daily may be
necessary for some patients.N.B: The effervescent tablets are added to half a glass of water and taken after complete dissolution.
–  Pediatric dose:
1-2 mg/kg/day in 1-2 doses (maximum 40 mg/day)
How Supplied:
–  Tablets: Strips of 10 tablets in packs of 2 or 4 strips (20 mg), or 2 or 3 strips of (40 mg).
– Effervescent tablets: packs of 10 tablets.
– Suspension: powder for oral suspension, to orm 60 ml after constitution.
– Keep all medicaments out of reach of children
Product of:
AMOUN PHARMACEUTICAL CO. SAE.
El-Obour City, Cairo, Egypt