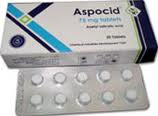 Aspocid       75 mg
Tablets
Composition:
Each tablet contains:
Acetylsalicylic acid                       75mg

Properties:
Aspirin is a potent inhibitor of both prostaglandin synthesis and platelet aggregation.
It acts via inactivation of cyclo-oxygenase by acetylation.
Indications & Usage:
– Prophylaxis against cerebrovascular diseases or myocardial infarction.
– Analgesic, anti-inflammatory.
Contra-Indications:
– Previous or active peptic ulcer.
– Children & adolescents under 16 years unless specifically indicated.
– Hemophilia & other bleeding disorders.
Side Effects:
– Gastrointestinal discomfort.
– Haemorrhagic disorders.
Drug Interactions:
– With anticoagulants; Increase risk of bleeding.
– With antacids: Increase aspirin excretion so decrease its effect.
– With corticosteroids : Increase risk of gastrointestinal bleedin9.:
– With Metoclopramide & Dompridone : Enhance aspirin effect.
Warning & Precautions:
– Acetyl salicylates should be used cautiously in asthma, and uncontrolled hypertension.
– Pregnancy & lactation: Used under close medical supervision.
Dosage & Administration:
– For vascular disease; 1 tablet daily or as prescribed by the physician.
– For analgesic and antipyretic effect; (2-3) tablets (4-6) times daily preferably after
meals
Packing:
Box of 20 or 500 tablets (2 or 50 strips each contains 10 tablets).
Storage:
Store below 30'C and R.H. below 70 %
Produced by:
Chemical Industries Development (CID) – Giza – A.R.E.