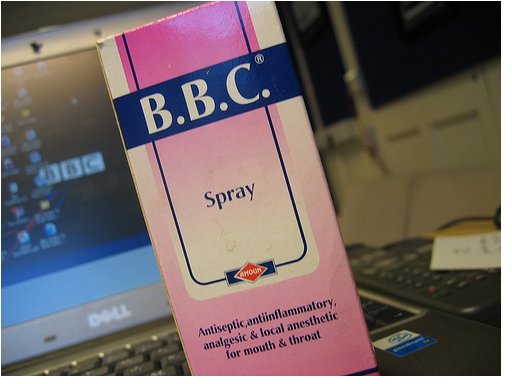 B.B.C
Antiseptic, anti-inflammatory, analgesic & local anesthetic for the mouth and throat
Composition :
Each 100 ml solution contains:
Benzocaine     1.5 gm.
Benzydamine hydrochloride     0.15 gm.
Cetalkonium chloride     0.0413 gm.
ProPerties :
B.B.C.has multiple actions as an ana gesic, anti- inflammatory, antiseptic and local anesthetic.
–  Benzocaine acts as a very potent local anesthetic (surface anesthetic ).
– Benzydamine hydrochloride in concentration of 0.15% has a potent analgesic and anti- inflammatory activities.
–  Cetalkonium chloride has a wide spectrum of bactericidal action beside its antifungal activity. Generally, it has antiseptic and antimicrobial actions.
Indications :
B.B.C mouth and throat spray is used to relieve pain and inflammation in the following cases:
~ Dental disorders, e.g. gingivitis
~ Pre-and postdental surgery                              ~ Sore throat
~ Pharyngitis and tonsillitis                                 ~ Dyspeptic ulcers
~ Inflammatory conditions of the mouth and throat
~ Minor infections of the mouth and throat
B.B.C.<II> is also used as a mouth refresher and routine antiseptic.
Contraindications:
None
Precautions :
Avoid spraying into the eyes.
Not advisable in extremes of age as it may affect swallowing.
Dosage :
1-2 applications 3-4 times daily or as required.
How supplied :
Atomizer cans of 25 ml.
Product of:
AMOUN PHARMACEUTICAL CO. SAE.
EI-Obour City, Cairo, Egypt.