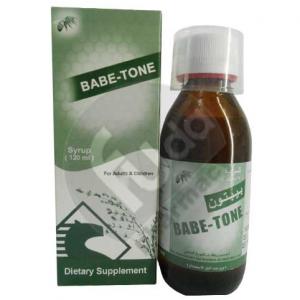 BABETON E SUGAR FREE SYRUP
Composition:
Each 5 ml contains:
Thyme leaves Liquid Extract (1:1)                        60 mg
(Standardized as NLT 0.03% Thymol)
Bitter Fennel liquid extract (1:1)                            20 mg
(Standardized as nlt 0.08 % T-Anethol
Bee Propolis Liquid Extract (1 :5)                          20 mg
(Standardized as NLT 0.1% total Flavonoids)
Rose Hips Liquid Extract (1:1)                                35 mg
(Standardized as NLT 0.2 % Ascorbic acid)
Properities:
Thyme extract:
Is a mucolytic, helpful in relaxing bronchial smooth muscle and is an antibacterial agent.
Fennel extract:
Improves the mucociliary activity of the ciliary epithelium which is helpful in expectoration.
Bee propolis extract :
Propolis supports the immune system and acts as antioxidant and antibacterial.
Rose hips extract:
Source of vitamin C.
Indication:
Dietary supplement in case of cough.
Dosage:
Children 3 years & above: 5 ml (one teaspoonful) 3 times daily.
Adults: 10 ml (one tablespoonful) 3 times daily. Or as directed by the physician
Warning & precaution:
– Avoid use in pregnancy
– Avoid using for children less than 3 years
– May affect individuals with urinary tract or gastrointestinal inflammation
– Used with caution in individuals with thyroid disorders.
– Keep out of reach of children
Package:
Carton box containing a Bottle of 120 ml syrup & inner leaflet.
Storage:
Keep at temperature not exceeding 30°C
Dietary supplements are not intended to diagnose,
treat, cure or prevent any disease.
Manufactured by :
AI Esraa pharmaceutical optima.