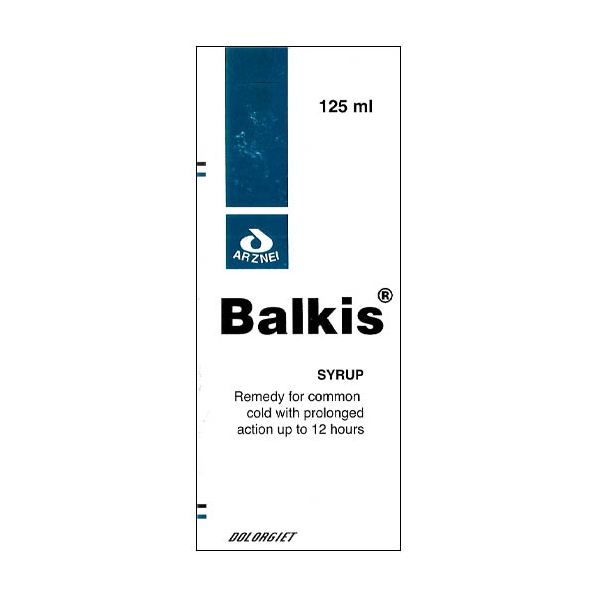 For the Medical Profession Only
BALKIS
Syrup. Capsules
for common cold and hay fever with prolonged action up to 12 hours
COMPOSITION:
Each                             100 ml Syrup         1Capsule                        contains:
Chlorphenamine          40 mg                        6 mg   Both bound to an ion exchanger
Etilefrine                         134 mg                     20 mg
PROPERTIES:
BALKIS is a remedy for common cold by oral administration It rapidly stops the inconvenient symptoms of the cold annoying to the patient. The bond of the two components to an ion exchanger enables a prolonged action up to 12 hours.
DOSAGE:
Unless otherwise prescribed by the physician.
Children:
– 2 – 6 years: one teaspoonful in the morning and in the evening.
– 7 – 12 years: two leaspoonful in the morning and in the evening.
– Juveniles and Adults: one tablespoon or one capsule in the morning and in the evening. In case of particularlY severe cOJd, this dQ§..e may be t~ll.Orarily increased to be taken every anours~ake the syrup well before use.
CONTRAINDICATIONS:
In cases of high blood pressure (hypertension) and hyperthyroidism, it iadvisable not to take BALKIS except under medical supervision.
NOTE:
Alertness in road traffic may be affected by sporadic slight fatigue Simultaneous alcohol consumption should be avoided, since the consequent reaction of each individual patient is practically unforeseeable. BALKIS is also suitable for diabetics. Keep in a cool and dry place Keep out of the reach of children.
PACKING:
Syrup     : Bottles of 125 ml,
capsules: Pack of 8 capsules.
this is a Medicament :
– Medicament is' a product which affects your health, and its consumption contrary to instructions is dangerous for you.
-Follow strictly the doctor's prescription, the method of use, and the instructions of the pharmacist who sold the medicament.
-The doctor and the pharmacist are experts in medicine, its benefits and risks.
-Do not by yourself interrupt the period of treatment prescribed.
-Oo not repeat the same prescription without consulting your doctor.
-Keep all medicines out of reach of children.
 MANUFACTURED BY:
E.I.P.I CO
EGYPTIAN INTERNATIONAL PHARMACEUTICAL INDUSTRIES CO.
Hlth OF RAMADAN CITY, A.R.E.
UNDER LICENCE OF DOLORGLET PHAMACEUTICALS
FEDERAL REPUBLIC OF GERMANY