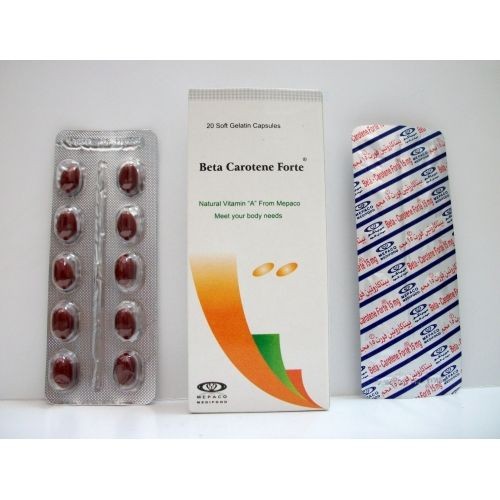 Beta Carotene Forte
Soft gelatin capsules
Composition:
Each Soft gelatin capsule contains:
Natural Beta Carotene                                    15 mg
(Equivalent to natural Vitamin (A)             25000 IU)
Properties:
Natural Beta Carotene is regarded as the most bioavailable form of provitamin (A) precursor compounds, carotene is a provitamin A (very potent source) and Beta Carotene is the most active carotenoid found in plants. Vitamin (A) is an intrinsic part of visual retinal pigments and it is essential for keeping normal vision, normal epithelial structure, cell differentiation and growth.
Not only, natural Beta Carotene is more safe and stable than vitamin (A), but has antioxidant effects as well. Beta Carotene maintains skin integrity and inhibits the flaking and keratinization of the skin. It has protective effect against skin sensitivity to sunlight, cystic acne, psoriasis, actinic keratosis,leukoplakia and pityriasis rosea.
In addition, Beta Carotene has preventive effects against cancer and malignant tumours. Vitamin (A) deficiency is considered one of the most important and serious nutritional deficiency diseases, as the early symptoms of vitamin (A) deficiency is night blindness and dryness of the conjunctiva and cornea (Xerophthalmia).
Indications:
– For reducing severe eye strains.
– For night blindness and xerophthalmia.
– For skin sensitivity to sunlight.
– For cystic acne, psoriasis, actinic keratosis and pityriasis rosea.
– For leukoplakia and protective against skin cancer.
Dose:
One capsule daily.
Pack:
Box containinig 2 strips each one contains 10 soft gelatin capsule.
Storage:
Store in a dry place at temperature not exceeding 30°C.
keep all medications out of reach of children
Produced by :
Arab Company for Gelatin and Pharmaceutical
Products (Arab Caps) For Arab Company for Pharmaceuticals & Medicinal Plants (MEPACO – MEDlFOOD)
and packed by (MEPACO – MEDIFOOD)
Enshas El Rami – Sharkeya – Egypt