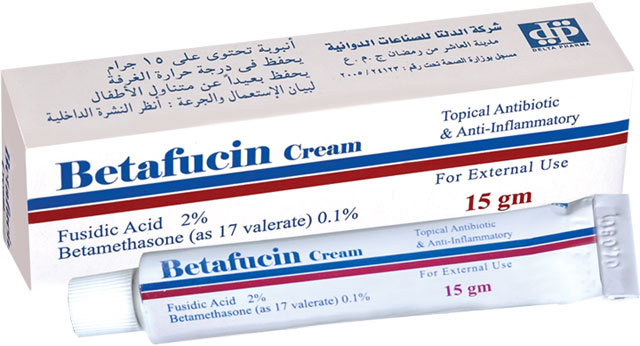 Betafucin cream
Topical Antibiotic &Anti-lnfiammatory
Composition:
Each gram contains :
Fusidic acid 20 mg
Betamethasone 1 mg
(As valerate)
Properties:
Betafucin cream combines the potent topical antibacterial action offusidic acid with the anti- inflammatory and antipruritic effect of
betamethasone . fusidic acid is effective in low concentrations against staphylococci, including strains resistant to penicillin or to other antibiotics. Topically applied fusidic acid is also effective against streptococci, corynebacteria, neisseria and certain clostridia.
Indications:
Betafucin is indicated in inflammatory dermatoses where bacterial infection is present or likely to occur. Inflammatory dermatoses include atopic eczema, discoid eczema, stasis eczema, seborrhoeic dermatitis, contact dermatitis, lichen simplex chronicus, psoriasis,discoid lumps erythematosus, insect bites, sunburns.
Dosage:
Uncovered lesions: apply 2 – 3 times daily.
Covered lesions: Less frequent application may be adequate .
Contra indications:
Topical corticosteroids are contra-indication in tuberculosis, viral and fungal skin infections.
Precautions:
Topical administration of corticosteriod to pregnant animals can cause abnormalities of foetal development. The relevance of this finding to human beings has not been established, however, topical steroids should not be used extensively during pregnancy, i.e, in large amounts or for prolonged periods. In infants long-term continuous therapy should be avoided.
Side effects:
Hypersensitivity has rarely been encountered.
Pack:
Tube of 15 gm.
The drug should not be used without medical supper vision
Keep out of the reach of children
produced by :
delta pharma s.a.e