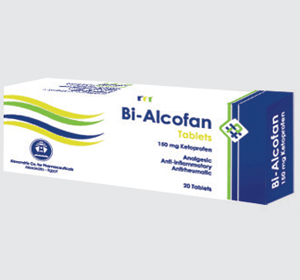 Bi-Alcofan Tablets
Ketoprofen 150 mg
Analgesic , Antl-inflammatory & Antirheumatic
Composition:
Active Ingredient:
Each tablet contains 150 mg ketoprofen as active ingredient.
Exceplents: lactose monohydrate , Maize starch, Hydrated silica (Ievilite), explotab hydroxy ethyl cellulose riboflavin sodume phosphate , Magnesium stearate.
Indications :
the indications of ketoprofen are based on its anti-inflammatory,
analgesic and antipyretic properties ketoprofen is indicated for symptomatic treatment of :                                                                         – rheumatoid arthritis                                                                                 – degenerative joint diseases
– musculoskeletal and joint disorders such as tendinitis, sprain.
– Pain. regardless of the origin , such as dental pain. headache and
primary dysmenorrhea.
Dosage and administrations :
Anti -Inflammatory dosage
The recommended starting dose is 150 to 300 mg/dey in 3 diveded
doses . Once the maintenance dosage has been established( usually 100 to 200 mg/day) , the patient may be tried on a twice daily
dose regimen. Altematively , switching to the once daily form at the
same dosage may be considered. The recommended maximum daily
dosage is 300 mg
management of pain and primary dysmenorrhea                     the usual recommended dose is 25 to50 mg every 6 to 8 hours as necessary. The total dally dose shoUld not exceed 300 mg .
Special populations
Patients with impaired renal function and the elderly:
it is advisable to reduce the initial dosage and maintain such patients on the minimal effective dose individual adjstment may be considered, only after good individual tolerance has been ascertained
see pharmacokinetics section ).
patients with impaired hepatic function :                                   these patients should be carefully monitored and kept at the minimal effective dally dosage (see Precautions & Phermacokinetics section )
Children:                                                                                                 The safety and effectiveness of ketoprofen have rot been estab-lished.
Administration :
The oral forms should be taken with fluids, preferably with food.
Contra Indications :
ketoprofen is contraindicated in patients who have ahistory of hyper sensitivty reactions such as asthmatic attacks or other allergic type reaction to ketoprofen acetyl salicylic acid or other nsaids severe rarely fatal anaphylactic reactions have been reported in such patients ( see Adverse Reactions section).
Ketoproten is also coottalndicated in the following cases:
-acnve peptic ulcer.
– severe hej)atic insufficiency.
– severe renal Insufficiency.
-third trimester of pregnancy.
Warnings & Precautions :
Warnings:
Due to the possibility of severe gastrointeslinal lesions. partiCular at-
tention should be paid to anv digestive disturbance and ospecially to
gastrointestinal bleeding. ThIS nslt is espec;ialIy high in patients who continue to recsve anticoagulant therapy.
Cardiovascular risk:

NSAIDS may cause an increased risk of serious cardiovascular throm botic events myocardial infarction and strok which can be fatel thise risk may increace with duration of use patients with cardicovascular disease or risk factors for cardicovascular disease may be at greater risk
Gutrointestinal risk:
NSAIDs cause an increased risk of serious gastrointestinal adverse
events Includltlg inftammation. bleeding, ulceration. and perlotation
of the stomach or Intestines, which can be fatal. These events can
0ccur at any time during use and without warning symptoms. Elderly patients are at greater nsk for serious gastrointestmal events.
Precautions:
– patient with apast history of peptic ulcer                                              – at the start of treatment renal function must be carefully monitore
in patients with heart failure. cirrhosis and nephrosis . in patients
administrationt particularly if the patient is elderly in these patients administrationt of ketoprofen may induce areduction in renal decomposition
– As with other NSAIDs , in the presence of an infectious disease . It
should be noted that the anti inflammatory analgesic and the 0.anti pyretic properties of ketoprofen may mask the usual signs of infection progression such as lever.
– In patients with abnormal liver function tests or with a history of liver disease transaminase levels should be evaluated periodically partic ularly during long term therapy rare cases of jaundice and hepatitis have been described with ketoprofen
– if visual disturbances such ablurred vision occur. treatment should
be discontinued.
Driving avehicle or performing other hazardous tasks :
patients should be warmed about the potential for somnolence dizziness or convulsions and be advised not to drive or operate machinery ,if these symptoms occur.
Interactions :
1- Not recommended drug associations:
– other NSAIDs including high dose salicylates : lncreased risk of
gastrointestinal ulceration and bleeding
– oral anticoagulants parentral heparin and ticlopidine : increased risk of bleeding caused by platelet aggregation inhibition if coadmin istration is unavoidable
– lithium : risk of elevation lithium plasma levels sometimes reaching toxic levels due to decreased lithium renal excretion where necessary plasma should be closely monitored and the lithium dosage levels adjusted during and after nsaid therapy
– methotrexate at doses greater than 15 mg/week
2- drug associations requiring precautions for use :
– diuretics : patients and particularly dehydrated patients taking diuretics are at agreater risk of developing renal failure socondary to adecrease in renal blood flow caused by prostaglandin inhibition        by and reoal function monitored when the treatment is started
(see precautions section).
– Mathotrexate at doses lower than 15 mg/week: During the first '
weeks of combination treatment, full blood count should be monitored weekly . If there Is any alteration oftha renal function or the patient Is quent clinical monitoring and monitoring of bleeding time is required.
3- During associations to be taken into account:
– Antihypertensive agents beta-blockers  angiotensin converting
enzyme inhibition diuretics: Risk of decreased antihypertensive
– thrombolytics : increased risk of bleeding                                       -probenecid : concomitant adminstration of probenecid  may mark edly reduce the plasma cIear&nce of ketoprofen.
– gemeprost : the efficacy of gemeprost may be reduced
Pregnancy :
During the first and second trimestar:
in mice and rats there is no evidence of teratogenicity or embryotoxicity in the rabbit slight embrytixicity likely related to  maternal toxicity has been reported. As the safety of ketoprofen In pregnant women has not been evaluated the use of ketoprofen during the first and second trimester of pregnancy shlod be avoided
– during the third trimester of pregnancy : all prostaglandin synthetase inhibitors including ketoprofen may induce cardiopulmonary and renal toxicity in the fetus at the end of pregnancy
Lactation :
No data are available on excretion 01 ketoprofen in human milk.
Ketoprofen is not recommended in nursing mothers.
Adverse Reactions :
– Gutrointestinal effects:
– Hypersensitivty reactions
– dermatological reactions                                                                            – skin reaction                                                                                              – peripheral and central nervous system                                                 – psychotic disorders                                                                                    – vision disorders                                                                                          – hearing disorders                                                                                       – renal system :Abnomlal renal function tests, acute renal faiure                                                                                                                         – hepatic system                                                                                           – hematology                                                                                                  – cardiovascular system
Overdose :
cases of overdose have been reported with doses up to 2.5 g of
ketoprofen. In most instances, the symptoms ob$erved have been to benign and limited to lethargy. drowsiness, nausea. vomiting
and epigastric pain. There are no specific antidotes to keloprofen overdosages . Incases of suspected rna5S/Ve overdosages, a gastric lavage isrecommended and symptomatic and supportive treatment should be instituted to oompensate for dehydration , to monitor urinaryexctetion and to correct acidosis, if present if renal failure is present hemodialysis may be useful to remove circulating drug.
Pharmacodynamics :
ketoprofen is anon steriodal anti inflammatory arylcarboxylic acid derivative belonging to the propionic acid group of nsaids is not fully explained.It inhibits prostaglandin synthetase and platelet aggregation.
Storage:
Store at a temperature not exceeding 3O·C, in a dry place.
KEEP ALL MEDICINES OUT OF REACH OF CHILDREN
persentation :
carton box contains 1 or 2 (AL Orange transparent PVC) strips, each
of 10 tablets & an inner leaflet
produced by :
alexandria co for Pharmaceuticals & Chemical lndustries – Alex. Egypt