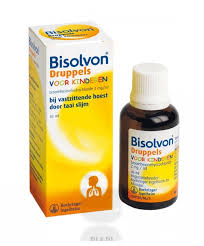 Bisolvon
Bronchial Mucolytic
Composition:
1 Tablet contains                              8 mg
2 rnt solution contains                   4 mg
5 ml Syrup contains                       4 mg
1 ampoule of 2 mt contains           4 mg
N· Cydohexyl·N- methyl- ( 2- amino -3,5- dibromobenzyl ) – amine hydrochloride
( =bromhexine hydrochloride ).
Properties:
Blsolvon is a clinically proven, systemically active mucolytic agent.
When administered orally, onset of action occurs after about 30 minutes, With the parenteral and inhalation fonns within15-20 minutes. The Full effect of Bisolvon is shown by an increase of respiratory tract fluid, which occurs within 2-3 days
of commencing treatment. Mechanism of action of Bisolvon depends on making the sputum thinner and less viscid and therefore more easily removed by coughing.
Although sputum volume eventually decreases, Its viscosity remains low for as long as treatment with Bisolvon is maintained.There is also an. increased response to bronchoditator drugs such as Alupent and Berotec.
Indications:
All forms of tracheobronchitis, emphysema with bronchitis, pneumoconiosis, chronic inflammatory pulmonary conditions, bronchiectasis, bronchitis with bronchospasm, asthma. During acute exacerbations of bronchitis, Bisotvon should be given with the appropriate antibiotic. Bisolvon may also be administered to facilitate and expedite.the expectoration of abnormal fluid present in the bronchi e.g. contrast media.
Contra-indications:
There are no absolute contraindications but in patients with gastric ulceration relative caution should be observed in the use of Bisolvon tablets. Bisolvon should not be administered to patients with hypersensitivity to bromhexine.
Side effects:
Occasional gastro-intestinal side effects may occur but these are almost invariably mild. •
Precautions:
– Studies in animals have given no suggestion that Blsclvon has any teratogenic potential in humans nevertheless as with any drug, it is advisable to avoid use during the first trimester of pregnancy.
– Blsclvcn syrup is not recommended for diabetic patients.
Dosage and administration:
-Orel:
Tablets 8 mg           Solution 8 mg/4 ml          Syrup 4 mg/5 ml                                                                                (60 drops = 4 ml)     ( 1 teaspoon = 5 ml )       adults and children    8mg(1tab)t.i.d               4ml t.i.d                  10 ml ( 2tsp.) t.i.d
over 10 years
Children 5-10 year     4 mg ( 0.5 tab ) q.i.d           2ml t.i.d                      5ml (tsp.)t.i.d
Children under 5 years   4 mg ( 0.5 tab) b.i.d     20 drops t.l.d      2.5 ml ( 0.5 tsp.) t.i.d
Babies                                                                         10 drops t.i.d
At the commencement of treatment it may be necessary to increase or double the dose. The syrup is very suitable for small children.
-Inhalation (with aerosol apparatus) :
For sensitive patients it is advisable to warm the solution to body temperature to prevent possible initial irritative cough. Before inhalation in bronchial asthma or with asthmatic symptoms a bronchodilator ( e.g. Aludrin or Alupent ) should first be administered.
Solution ( diluted in water 1:1 )
Adulls                                                                                     2 ml 2-3 times daily
Children over 10 years                                                         2 ml 1-2 times daily
Children 5-10 years                                                               1ml     twice daily
Children under 5 years                                                          10 drops twice daily
Babies                                                                                        5 drops twice daily
The combined administration of inhalation a~ app~nteOsifiesfhe effect and is especially suited for the commencement of treatment in cases where the ful effect is to be reached quickly.
– Ampoules for injection ( 4mg in 2 ml ) :
The administration of Bisolvon ampoules is recommended for the treatment of the most severe cases as well as for reducing postoperative complications. In severe cases as well as before and after surgical interventions 1 ampoule S.C., 1.M. or LV. ( duration of injection 2-3 minutes) 2-3 times daily. The injection solution can also be given as a drip infusion together with glucose, levulose, or Ringer's solution.
Bisolvon should not be mixed with alkaline solutions as the acid character of Bisolvon solution ( pH 2.8 ) may cause cloudiness or flocculation.
Note:
Patients being treated with Bisolvon should be warned to expect an increase in the flow of secretions.
Product of :
CHEMICAL INDUSTRIES DEVELOPMENT ( CID)
GIZA – A.R.E.