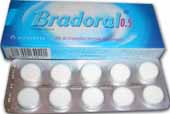 ®Bradoral
Mouth and throat antiseptic
Composition and forms of issue :
– Dodecyldimethyl- (2 – phenoxyethyl J – am- man. bromat. (= domiphen. bromat.)
– Eucalyptol., menthol., olea aether., quan!. minimal
– excip. pro campr. buccal.
– lozenges of 0.5 mg domiphen bromide Domiphen bromide belongs to the class of the long-chain quaternary ammonium compounds.
Properties / effects :
8radoral has an antiseptic effect against most bacteria and fungi that are liable to cause infections of the mouth and throat. Gram-positive micro-organisms prove more sensitive to it than gram-negative ones. Bradoral is generally believed to exert its effect mainly by acting on the cell membrane of the pathogens.
Pharmacokinetics :
Few pharmacokinetic data are available on long-chain quaternary ammonium com- pounds such as domiphen. The low con- centrations of active substance reached in the body fluids cannot be measured by
the usual analytical methods. Such data as are available suggest that
systemic absorption of domiphen bromide occurs only on an insignificant saale.
Indications :
Bradoral serves to prevent inflammation of the mouth and throat at times when
there is an increased risk of infection. In cases where infection has already occur- red, it alleviates difficulty in swallowing, soreness of the throat, hoarseness, gin- givitis, and aphthous stomatitis, thereby promoting the healing process.
Dosage :
Bradoral is well tolerated by the oral mucosa and has a pleasant taste which
children also find acceptable. For prophylactic use: 1 lozenge 4-6 times
daily. to be slowly dissolved in the mouth. For use where infection has already
occurred: Suck 1 lozenge every 1-2 hours (up to a maximum of 8 lozenges per day .
Restrictions on use
Contra – indications :    
Known hypersensitivity to the active subs- tance and lor the auxiliaty substances.
Precautions :
In the unlikely event that difficulty in swallowing either sets in or becomes
aggravated during treatment with Brado- ral, the treatment should be discontinued. Where Bradoral is being taken as self- medication, the patient should consult a doctor if the symptoms are still present after about 5 days of treatment and lor if fever develops.
Pregnancy and lactation :
No animal- experimental data on terato- genic effects have been reported, nor has therapeutic experience extending over many years yielded evidence of any
harmful influence on development of the embryo and I or foetus. During the first 3 months of pregnancy, Bradoral should nevertheless only be employed for compelling reasons.
Unwanted effects :
Only in very rare cases have there been reports of local hypersensitivity reactions in the form of local reddening of the mucous membranes and swelling of the pharyngeal mucosa giving rise to difficulty in swallowing.
Interactions :
Anionic surtactants, e.g. soaps, as well as protein-containing organic material, e.g. brood and purulent secretions, diminish the antiseptic activity of Bradorai.
Overdosage :
No cases of overdosage have been reported to date.
Storage :
Protect from moisture and heat (store below 30·Cl.
Packages :
Lozenges: Packs of 20
Medicines should be kept out of the reach of children.
Produced by :
NOVARTIS PHARMA S.A.E.-Calro
under licence from
Novartls Consumer Health SA,
Nyon,Swltzerland