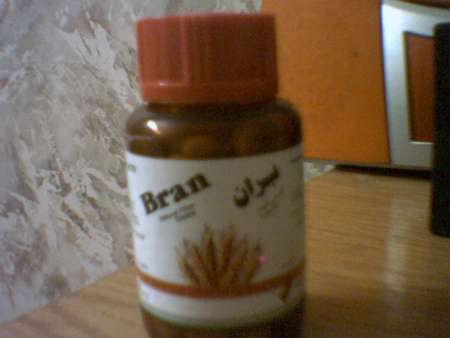 Bran f.c.   Tablets
Natural Fibre Tablets
Composition:
Each film coated tablet (740 mg) contains:
Bran (Cellulose fibre)     500 mg
Excipients to                     740 mg
Do "'01 ose Bran tablets inpatients Wltfi intestinal obstruction and immobile old people.
Uses:
– It helps maintain the natural function of the GI tract.
Precautions:
– Oesophageal or intestinal obstruction may take place if a large number of tablets is ingested without adequate fluid intake.
– It can be used safely during pregnancy and lactation.
Side effects:
– Large quantities of Bran may temporarily increase flatulence and distention. This may be decreased by using small amounts and slowly increasing the amount ingested.
Usage:
– To achieve normal gastro-intestinal motility: 2 – 4 tablets after breakfast, followed by a glass of water.
Duration of treatment:
– There is no time limit for the use of Bran Tablets.
Storage:
– Keep in a cool dry place.
– Keep out of reach of children.
Presentation:
Bottle containing 120 film coated tablets.
Use under physician's supervision.
Produced by:
AmAIYA PHAAm. InD.
ALEXANDRIA _ EGYPT