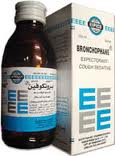 BRONCHOPHANE Syrup
Composition:
Each 5 ml contains:
Guaiphenesin                                                       50 mg
Ephedrine hydrochloride                                   7.5 mg
Diphenhydramine hydrochloride                     5 mg
Dextromethorphan hydrobrorrude                 6.25 mg
Excipients:
: Sodium phosphate dibasic, citric acid anhydrous. sucrose, sorbitol 70%, sodium benzoate, FOC yellow no.6, peach flavor, propylene glycol, ethanol, purified water.
Properties:
BRONCHOPHANE is a well-tolerated balanced formula acting as expectorant and cough sedative. It contains guaiphenesin, ephedrine hydrochloride, diphenhydramine hydrochloride. and dextromethorphan hydrobromide. Cuatphenestn increases prcc.rcnon of respiratory tract fluids to help liquefy and reduce viscosity of tenacious sputum. It thins +esptratory secretions for easier removal. If sputum is not removed, it may support growth of bacteria and make breathing more difficult. Ephedrine is a sympathomimetic with direct and indirect effects on adrenergic receptors. 11 causes bronchodtlatatton. thus relieving bronchospasm and nasal congestion. Diphenhydramine is a sedating antihistamine with anuemeuc properties. It is used for the symptomatic relief of allergic conditions including rhinitis. It has pronounced central sedative properties and is a common ingredient of compound preparations for symptomauc treatment of coughs and common cold. Dextromethorphan is a
cough suppressant used for the relief of non-productive cough; It has a central action on the cough centre in the medulla. Dextromethorphan in the small dose provided in BRONCHOPHANE does not completely suppress the cough but calms iI without influencing the expectorant property of quatphenestn. Consequently,
BRONCHOPHANE provides a full range of therapeutic action against the cough, promoting tracheobronchial secretion, relieving bronchospasm in asthmatic bronchitis, besides being helpful to control distressing coughs
Indications:
-Acute and chronic bronchitis
-Asthmatic bronchitis.
-Cough associated with common cold.
Dosage and Administration:
Unless prescribed by the physician the dose as follows:
Children more than 6 years: 112 teaspoonful 3 – 4 times daily.
Adults: 1-2 teaspoonful. 3rimes daily.
Drug Interactions:
CNS depressants and alcohol: May increase sedation.
MAO inhibitors: May cause severe hypertension. Do not USE: together.
Antthypertenstves: BRONCHOPHANE may decrease their effects.
Precautions:
BRONCHOPHANE should be used with caution in:
– Elderly patients.
– Hypertension and hyperthyroidism.
– Nervous or excitable states, diabetes, or prostatic hyperplasia.
Pregnancy and Lactation:
BRONCHOPHANE should not be used during pregnancy and it is not recommended during lactation.
Contraindications:
-Hypersenstnvtty to the drug and other sympathomimetic drugs.
-Porphyrta.
-Pauerus taking monoamine oxidase inhibitors (MAOls, cerratn drugs prescribed for depression, psychiatric, or emotional conditions. or Parkinson's dtseasel or within 2 weeks of stopping MAOls.
-Severe coronary artery disease or cardiovascular disease.
-BRONCHOPHANE is contraindicated in children less than 6 years old.
-BRONCHOPHANE is contraindicated in pregnant women, patients with renal or hepatic impairment, and in patients treated with metronidazole or disulfiram, because of the potential risk of toxtctty from the large amount of the excipient propylene glycol.
Side Effects:
The side effects may include drowsiness, sedation, and headache
storage :
store at atemperature not exceeding 30 c away from light
produced by :
Egyptian int. pharmaceutical industries co.
E.I.P.O.CO.