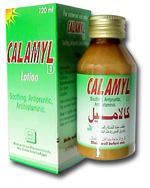 Calamyl-D Lotion
Soothing, Antipruritic, Antihistaminic.
Composition:
Each 100 ml contains:
Calamine                                                8.0 g.
Diphenhydramine hydrochloride     1.0 g.
Zinc Oxide                                             8.0 g.
– Inactive ingredients: Camphor, Glycerol, Tween 80, Methyl paraben, Propyl paraben, Xanthan gum, Bentonite, Lemon liquid flavour, Hydrochloric acid, Ethyl
alcohol, Purified water.
Properties:
Calamyl-D is a lotion for local application to the skin, effective for a wide variety of-
skin disorders. Calamine is known for its protective, mild astringent and antibacterial actions. It is used to relief roughness, redness and irritable conditions of the skin including sunburn. Zinc Oxide is applied externally as a mild astringent, soothing and protective for the skin. Diphenhydramine hydrochloride exerts an antihistaminic activity as it competes with free histamine for binding at H1- receptors. It also suppresses the formation of edema and pruritis due to its. antipruritic action.
The lotion also contains glycerin which is an established emolient and lubricant that helps to maintain the skin moist for a considerable time minimizing any inflammatory condition of the skin.
Indications:
-Treatment of Urticaria and other allergic dermatitis.
CALAMYL-D is applied externally for the relief of:
* Inflammatory skin reactions.
* Redness and roughness.
* Mild sunburn.
* As protective in cases of slight excoriations.
Contraindications :
* CALAMYL-D is intended for external use only.
* To be applied to the intact skin.
* It should be kept away from the eyes and mucous membranes.
Adverse Reactions :
Rarely, in certain sensitive individuals, and on prolonged use (more than one week continuously) may sometimes cause allergic manifestations. In this condition, discontinuation of the treatment would be recommended.
Dosage and Administration:
Shake well before use. A thin layer is to be applied to the skin with gentle rubbing.
How Supplied:
Carton box contains a bottle of 120 ml of lotion.
Storage:
Keep the bottle tightly closed at a temperature not exceeding 30 0 C.
Keep out of reach of children.
-Topical anti-histaminic may cause hypersensitivity; avoid in eczema, photosensitivity.
-Not recommended for longer than 3 days.
Manufactured by :
Medical Union Pharmaceuticals.
Abu·Sultan, Ismailia, Egypt.