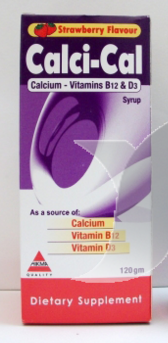 Calci cal Syrup
as a Source of calcium, vitamin D and vitamin B 12
Composition:
Each 5 ml syrup contains:
Calcium Levulinate            50 mg
Vitamin D3                         1000 IU
Vitamin B12                       10 mcg
Properties:
Calcium is essential for bone formation and extra amounts are needed during adolescence.
Vitamin D improves absorption and utilization of calcium by regulating the body's calcium phosphorus ratio.
Vitamin B12 is essential to cell metabolism and assists in the synthesis of nucleic acid.
Indications:
Dietary supplement, as a source of calcium, vitamin D and vitamin B 12.
Dosage :
Infants : 1/4 – 1/2 teaspoonful (1.75 rnl- 2.5 ml).
Children : 112 – I teaspoonful.
Adults : One tablespoonful.
These doses should be taken once a day.
Calci-Cal syrup can be taken with milk, water or directly from the spoon
Package:
Carton box containing bottle of l20grn (100 ml) syrup and an insert.
Storage:
Store at temperature not exceeding 30°C in a dry place.
Keep out of reach of children.
Produced by :
Hikma Pharma S.A.E, 6tb of October City- Egypt.