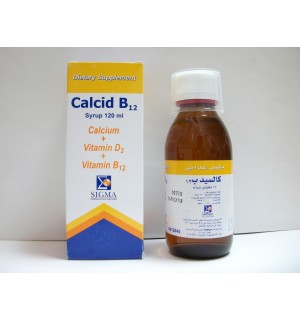 Calcid B12  syrup
Composition:
Each 5 ml syrup contains:
Calcium Glubionate                750 mg
(Equivalent to -50mg of calcium)
Vitamin B3                                200 IU
Vitamin B12                              0.0012 mg
Indications:
Dietary supplement containing Calcium, Vitamin 03 and Vitamin B12
Dosage:
– Children from 4 years and above: 5 ml (One teaspoonful) two times daily.
– Adults: 15 ml (one tablespoonful) once daily.
Precaution and warnings:
– The intake of Calcium may Influence the absorption &Efficiency of some medicine such as tetracyclines & quinolones .
-It is contraindicated in case of :
pregnant women, patients with liver disease- or kidney disease and patients who are taking other drugs containing Metronidazole or Disulfiram since it contains Propylene glycol.
-If you have been told by your doctor that you have intolerance to some sugars, contact your doctor before taking this product since it contains sucrose.
-This product contains sorbitol it may cause softening in stool and it has a laxative effect in overdose.
– Calcid B12 syrup may cause allergic and\or intolerance reactions, particularly amongst those with an aspirin intolerance since it contains sunset yellow.
– Calcid B12 syrup contains saccharine it should not be used in case of patients with liver disease since it has been reported that saccharine may cause elevation in liver enzymes.
– Since this product contains Methyl paraben & propyl paraben, it should not be used in case of children less than 3 years old.
– Keep out of reach of children.
Packing:
Carton box of amber glass bottle 120 ml of syrup with pilfered proof plastic cap + inner leaflet.
Storage:
Store at temperature not exceeding 30 0 C.
Dietary supplements are not intended to diagnose, treat, cure or prevent any disease
Produced by:
SIGMA Pharmaceutical Industries – Egypt – S.A.E.