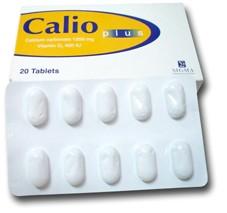 Calio plus
Tablets
Composition:
Each tablet contains:
Calcium carbonate                     1250 mg
(Equivalent to 500 mg elemental calcium)
Vitamin D3 (Cholecalciferol)       400 I.U (Equivalent to 10 mcg)
Properties:
Calcium is very essential in the normal development, maintenance of
good health and maintenance of strong bones and teeth, protection
against osteoporosis, during pregnancy and lactation.
Vitamin D3 is essential for calcium absorption, metabolism and its
deposition in bone and teeth.
Indications:
Calio plus is used to help body to restore calcium deficiency for elderly patients:
– Inadequate calcium intake.
– Calcium deficiency.
Contraindications:
Cases of hypercalcaemia, hypercalciurea .
Renal function impairment; patients should consult the physician.
Side Effects:
Constipation may occur with patients using drugs containing calcium
carbonate.
Dosage:
Elderly patients over 50 years:one tablet / day.
Presentation:
A box containing 2 blisters each of 10 tablets.
A plastic bottle containing 100 tablets.
Produced by:
SIGMA Pharmaceutical Industries. Egypt. S.A.E.