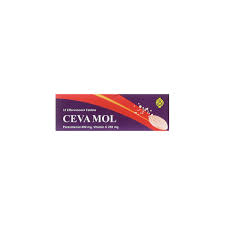 Cevamol effervescent tablets
Composition :
Each effervescent tablet contains :
Active Ingredients :
Paracetamol     400 mg
Vitamin C (Ascorbic acid)     250 mg.
Inactive ingredients:
Mannitol, dioctyl sulfosuccinate, pv.P. k25 ,citric cid anhydrous, sodium bicarbonate, sodium citrate. 2 H20, sodium carbonate, aspartam .aroma orange and cochineal red A 70%.
Pharmacological action :
Cevamol ls a combination of paracetamol and vitamin C in effervescent tablat form. It provides rapid effec.bve relle     pain and fever. Cevamol offers a palatable characteristic ta le d flavour and excellent gastric tolerability.
Paracetamol: Is a non opioid analgesic antipyretic agent. It acts by decreasing prostaglandin centrally and peripherally. It acts on COX-3 and has no anti-inflammatory action.
Vitamin C : Is a very important vitamin for the physiological processes of the body such as regulation of enzymatic reaction, participation in the formation of hormones, raising of resistance to infectious diseases, inactivation of toxins, activation of immune response and phagocytosis. This vitamin has also a great importance in the
formation of Intercellular substance and stimulation of haematopoiesis.
Pharmacokinetics:
Paracetamol: Is rapidly and completely absorbed after oral administration  It is distributed into most body ti ssues reaching maximum serum concentration within 30 minutes to 2 hours and the half life in plasma is about 1 – 4 hours Vitamin C ( Ascorbic acid): Is readily absorbed from the gastrointestinal tract and is widely distributed in the body tissues. As'COrt5i., aCid is reversibly oxidized to dehydroascorbic acid: some is metabolized to aSGOrbate-2-sulphate, which is inactive, and oxalic aCid which are excreted in u ·De.
Indications & Usage:
– Headache and fever.
– Relief symptoms of common cold.
– Toothache.
– Neuritis, trigeminal neuralgia and sciatica
– Dysmenorrhoea
– Painful wound following operations and fractures
Contra-lndications :
History of hypersensitivity to any of drug component
Side Effects:
Rashes and blood disorders (thrombcytopenia, leucopenia ,neutropenia) may rarely occur. Large dose of ascorbic
Drug Interactions:
– Acidification of urine of vitamin C may cause precipitation of cystine or  oxalate stones.
– Vitamin C may produce falseresults of urinary glucose test in diabetics.
– Colestyramine reduces absorption of paracetamol.
– Metociopramide and domperidone accelerate absorption of paracetamol.
Warnings & Precautions:
Caution is required in the following cases:
– Recurrent renal calculi.
– Patients on sodium restricted diets.
– Patient with hepatic or renal impairment or in alcoholism.
– There is a risk of liver damage following over dosage.
– Not to be used for patients suffering from phenylketonuria.
– Pregnancy and lactati0n :cevamol is not knowe to be harmful during pregnancy and lactation.
Dosage & Administration:
Adult:
Dissolve one effervescent tablet in a half glass of water 1-3 times daily or as prescribed by physician (max. 4 times daily).
Children(6-12 years):
Dissolve one effervescent tablet in a half glass of water 1-2 times daily or as prescribed by physician (max. 3 times daily).
Packing:
Carton box containing aluminium tube of 12 effervescent tablets.
Storage:
Store at temperature not exceeding 30° C • in a dry place.
Product of :
CHEMICALlNDUSTRIES DEVE~ciPMENT ( CID)
GIZA – A.R.E