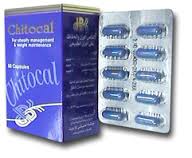 Chitocal
Composition :
– Chitosan (H.D)                              500mg
– Ascorbic Acid                                 100 mg
– Gymnema Sylvestre                      50mg
 Properties :
– chitocal is a highly effective weight loss formula which acts as carbohydrate blaster and fat absorption blocker
–  Chitocal contains 500 mg high density chitosan (the quality of chitosan depends on the free acetyl group which able to chelate many substances like lipids and uric acid). the mechanism of conjugation mediated by high positive charge in the surface of chitosan molecule.
Segment of the chitosan chain :
The activity of chelation depends on the highly reactive amino group which is able to chelate lipids and many transitional ions Chitosan absorbs 1 0-12 times its weight
in fat. with each 500mg. Chitosan as cholesterol and Idl lowering factor.
– Chitocal contains gymnema sylvester which its active principal is Gymnemic acid which its molecules has the same arrangement of glucose molecules and has large molecular weight make it has The affinity on the glucose receptor and make competitive inhibition with glucose on the receptor in small intestine – the actual
mechanism is decrease the input ot glucose to the blood stream and decrease amount of glucose absorbed which helps in the maintenance of normal glucose level in typeII Diabetis.
 indications:
1-Chitocal as weight loss formula helps in reducing body weight and for maintenance for normal body.
2-Chltocal helps in the maintenance of normal blood glucose.
Dosage:
– For weigh loss:
one capsule with meal 3 times daily in case of heavy meals 2 capsules is necessary.
–  For weigh maintenance, hypercholesterol and gout:
One capsule before meal 2 times daily.
 Contraindications:
Chitocal is 100% Safe aniinOcontraindications have been reported.
Storage:
Store up to 30″ C in dry place.
 Pack:
Box contains 60 capsules.
Keep out of the reach of children
Produced by:
Aldebeiky Pharma Co.
Made in Egypt