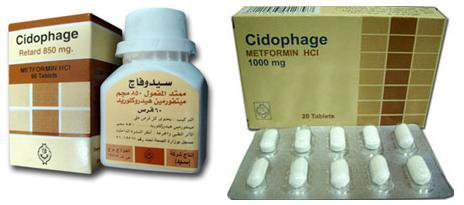 Cidophage   500 mg – 1000 mg – Retard 850 mg
Tablets
Composition:
Each tablet of Cidophage Contains:
Metformin HCI     500 mg or 1000 mg
Each tablet of Cidophage-retard Contains:
Metformin HCI     850 mg
Properties:
– Cidophage contains metformin He! which is a biguanide oral antidiabetic used in management of type 11 ( non-insulin dependent diabetes millitus )
– Cidophage is the drug of first choice in obese diabetics with insulin resistance
syndrome alone or with sulphonylurea.
– Cidophage has hypolipidemic effect, lowering serum triglycerides, LDL cholesterol level without any adverse effect on other lipid levels, Cidophage stabilizes or decreases body weight, also its anorexic effect is beneficial in weight loss.
– Cidophage exerts its action as antihyperglycemic agent without causing hypoglycemia and without weight gain.
– Cidophage improves insulin sensitivity without causing hyperinsulinemia.
– Cido ha e exerts its action b decreasin gluconeo enesis. reducin intestinal
absorption of glucose and increasing peripheral glucose upta e and utiliza .on by skeletal muscles.
– Cidophage reaches maximal plasma concentration after 1-2 hours, not bound to plasma protein, not metabolised and excreted unchanged in urine.
Indications & Usage:
– For non-insulin dependent diabetics (type II ) alone or with sulphonylurea.
– Overweight diabetics.
– Polycystic ovary syndrome, as sole therapy or as an adjuvant to clomiphene.
Contra-Indications:
– Ketoacidosis and hypoxic states ( e.g. respiratory failure, recent myocardial infarction)
– Renal or hepatic impairment, Congestive heart failure.
– Use of iodinated X-ray contrast media ( restart after renal function is verified normal)
– Known hypersensitivity to metformin.
Side Effects:
– Transient GIT disturbances ( e.g. anorexia, nausea, vomiting, diarrhea ) which resolve spontaneously during continuous treatment ( overcomed by taking Cidophage_ wjth meals)
– Lactic acidosis may rarely occur due to metformin accumulation so caution
must be taken.
– Dermal rash and dermatitis may rarely occur.
Drug Interactions:
– Drugs that may diminish the hypoglycemic effect:
Corticosteroids, oral contraceptives, estrogen, Thyroid products, sympathomimetics
– Drugs that may enhance the hypoglycemic effect:
Alcohol, furosemide, nifedipine and cimetidine.
Warnings & Precautions:
– Medical and surgical emergencies ( substitute with insulin)
– Cidophage may decrease intestinal absorption of ViI. B12 , so parenteral Vit.B12 administration is advisable. Also, red blood cell parameters should be monitored once per year.
– In pregnancy ( although it doesn't cross the placental barrier and there is no evidence of any teratogenic effect)
– For patients receiving other hypoglycemic agents, dose adjustment of both Cidophage and the other medication is must.
Dosage & Administration:
Diabetes mellitus : ( For adult and children over 10 years)
– Initially 500 mg once daily with breakfast for at least one week, then 500 mg
twice daily with ( breakfast, evening meals) for one week.
– Usual dose: 500 mg 3 times daily with meals.
The maximum dose is 2 gm daily in divided doses according to the doctor supervision.
Polycystic ovary syndrome:
Initially 500 mg once daily with breakfast for one week then 500 mg with meal twice daily ( breakfast, evening meals) for one week, then 1.5 – 1.7 gm daily ( 2-3 times) in divided doses.
* Cidophage  500 II!II tableta . one tablet 3 times daily.
* Cidophage retard 850 mg tablets: one tablet twice daily.
* Cidophage 1000 mg tablets: one tablet twice daily with meals.
Packing:  
– Cidophage 500 mg, 1000 mg :     Strips of 10 tablets.
– Cidophage retard 850 mg :     Boxes of 30 or 60 tablets.
Storage:
Store below 30'C and R.H. below 70 %
This drug can be useful in some diabetic patients and must not be used except under close medical supervision and should only be dispensed with a medical prescription.
produced by :
chemical industries development (CID)
GIZA – A.R.E – G.C.R.