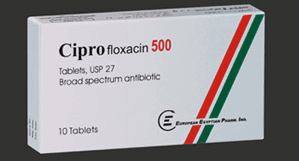 Cipro floxacin Tablets
250 mg & 500 mg USP 27
Broad spectrum antibiotic
Composition :
Each tablet contains:
Ciprofloxacin (as ciprofloxacin HCl)               250 mg or 500 mg
Properties :
CIPROFLOXACIN is a f1uoroquinolone broad spectrum antibiotic, with bactericidal activity against a wide range of gram-negative and gram positive organisms.
Gram-negative: Enterobacteriaceae such as: E. coli. Klebsiella pneumoniae, Klebsiella oxytoca, Salmonella, Shigella, Proteus, Acinetobacter, H. influenzae, H. ducreyi, Neisseria gonormoeae, Neisseria meningitidis. MoraxeUa catarrhalis, Campylobacter, Brucella and Legionella pneumophila.
Gram-positive: Staph. aureus (methicillin-susceptible and methicillin -resistant strains), Staph. epidermidis, Staph. haemolylicus. Streptococcus pyogenes. Streptococcus pneumoniae.
Other organisms: Chlamydia trachomatis and Mycobacterium tuberculosis. After oral administration CIPROFLOXACIN is widely distributed throughout the body. Tissue concentration often exceeds serum concentration in both men and women, particular1y in genital tissue including the prostate.
CIPROFLOXACIN is present in active form in the saliva, nasal and
bronchial secretions, sputum, lymph. skin, blister fluid, peritoneal fluid, bile and prostatic secretions.
CIPROFLOXACIN has been also detected in lung, skin. fat. muscle,
cartilage, and bone. The drug diffuses into the cerebrospinal fluid: however, CSF concentrations are generally less than 10% of those found in serum. Low levels of the drug have been detected in the aqueous and vitreous humors of the eye.
CIPROFLOXACIN is eliminated principally by urinary excretion. but non-renal clearance may account for about a third of its elimination and includes hepatic metabolism, biliary excretion and possibly transluminal secretion across the intestinal mucosa.
CIPROFLOXACIN acts by inhibiting the A subunit of DNA gyrase
which is essential in the reproduction of bacterial DNA
Indications :
CIPROFLOXACIN is indicated for the treatment of:
– Lower respiratory tract infections caused by E. cloacae, E. coli, H.
influenza, K. pneumoniae, P. mirabilis. and Ps aeruginosa.
– Urinary tract infections, prostatitis and gonococcal urethritis.
– Skin and soft-tissue infections caused by Citrobacter freundii, E.
cloacae, E coli, K. pneumoniae, Morganella morganii, P. mirabilis, P.
vulgaris, Providencia stuartii, Ps. aeruginosa, Staphylococcus aureus including methicillin – resistant strains) and S.epidermidis.
– bone including joints infections caused by Enterobacter cloacae,
mas aeruginosa, Serratia marcescens and Staphylococci.
– infectious diarrhea caused by Campytobacter jejuni Enterotoxigenic  E. coil shigella flexneri and S. sonnei.
– CIPROFLOXACIN and RIFAMPIN should probably be given
Iy for the treatment of comphcated Staphylococcal infections S.
– CIPROFLOXACIN is also used for treating and reducing the incidence s in neutropenic patients and in reducing meningococcal and mer states.
Dosage and administration :
location of infection     severity     unit dose    frequency   daily dose
– urinary tract :mild or moderate 250 mg / severe or complicated 500 mg and frequency : 12 h /daily dose 500 mg** 1000 mg
– lower respiratory tract, bone and joint akin or skin structure :  mild or moderate  500 mg/severe or complicated 750 mg /frequency : 12 h / daily dose : 1000 mg ** 1500 mg
– infections diarrhea : mild or moderate or severe :500 mg /frequency 12 h /daily dose 1000 mg
– gonorrhea : 250 to 500 mg as a single oral dose.
– the presence of food in the stomach may delay absorption of
CIPROFLOXACIN. However, the overall absorption is not affected,
therefore CIPROFLOXACIN tablets may be taken with meals or on an empty stomach tablets should be given with a full glass of water.
– the duration of treatment depends upon the severity of infection. CIPROFLOXACIN should be continued for at least 2 days after the signs and symptoms of infection have disappeared.
– the usual duration is 7 to 14 days. Bone and joint infections may
require treatment for 4 to 6 weeks or longer.
– adults with impaired renal function may require a reduction in dose.
adverse effects :
CIPROFLOXACIN is generally well tolerated. Side effects most often jastro-intesfinal tract (nausea, vomiting, diarrhea, abdominal
spepsia), central nervous system (headache, dizziness, and or skin (rash, pruritus, photosensitivity and rarely vasculitis).
Precautions :
– CIPROFLOXACIN should be used with caution in patients with
epilepsy or a history of eNS disorders, impaired hepatic or renal
function.
– Exposure to strong sunlight or sunlamps should be avoided during
treatment with CIPROFLOXACIN, and excessive alkalinity of the urine should be avoided because of the risk of crystalluria.
– CIPROFLOXACIN is not recommended for use in persons below 18 years old, during pregnancy or breast feeding.
Drug interactions :
– Cations like aluminium. magnesium. iron, calcium or zinc may reduce the absorption of CIPROFLOXACIN when given concomitantly.
– Urinary alkalinizers may reduce the solubility of CIPROFLOXACIN in urine.
– Concurrent administration of non-steroidal anti-inflammatory drugs with quinolone antibiotics may increase the incidence of quinolone CNS adverse effects.
– Probenecid decreases renal tubular secretion of CIPROFLOXACIN
resulting in increased and more prolonged CIPROFLOXACIN serum
concentration.
– Quinolones are known to inhibit hepatic drug metabolism and may
interfere with the clearance of drugs metabolised by the liver such as theophylline and caffeine.
Contra-indications :
Allergy to CIPROFLOXACIN or other quinolones.
Presentation :
A box containing 10 tablets               250 mg
A box containing 10 tablets               500 mg
PRODUCED BY :
EUROPEAN EGYPTIAN PHARM.IND.
ALEXANDRIA-EGYPT