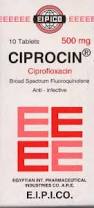 Ciprocin
film coated tablets vials
Broad – Spectrum Fluoroquinolone Antibacterial
Composition:
Each dosage unit contains:     Film-Coated Tablet      Vial (20 ml)
Ciprofioxacin                              250, 500 or 750 mg        10mg/l ml
(as hydrochloride)        (as lactate)
Properties :
Ciprocin® is one of the most polent of Ihe fluoroquinolone antibacleria group. It is baclericidal acling by inhibition of the A subunit of DNA qyrase enzyme essential for bacterial DNA reproduction. Clprocln® has a broac spectrum of activity against most Gram-negative bacteria and man, Gram-positive bacteria including Enterobacteriaceae, including E. coli Proteus, Klebsiella, Salmonella, Shigella, Serratia, Citrobacter Enterobacter,Providentia, Yersinia; Pseudomonas aeruginosa; Moraxell€ catarrhal is and Haemophilus influenzae (including beta-tactamase producing strains), Haemophilus parainfiuenzae and ducreyi, Neisserla
gnonorrhoeae (including beta-Iactamase producing strains), Neisserla meningitidis, Campylobacter spp., and Vibrio spp.; Staphylococci (including penicillinase-producing and penicillinase-nonproducing strains and some methicillin·resistant strains), Streptococci (including pyogenes, faecalis and pneumoniae).
Ciprocin® has some activity against mycobacteria, andmycoplasmas.
Pharmacokinetics:
Ciprofioxacin is rapidly and well absorbed from the gastrointestinal tract. Oral bioavailability is about 70% and a peak plasma concentration is achieved 1 – 2 hours after a dose of 500 mg by mouth. Absorption may be delayed by the presence of food but is not substantially affected overall. Plasma half-life is about 3.5 – 4.5 hours. Protein binding ranges from 20 – 40%. It is widely distributed in the body and tissue penetration is generally good. High concentrations are achieved in bile. Ciprofioxacin is eliminated
primarily by urinary excretion, but non-renal clearance may account for about a third of elimination and includes hepatic metabolism, biliar}l excretion , and possible transluminal secretion across the intestinal mucosa. About 40 – 50% of the oral dose is excreted unchanged in urine and about 15% as metabolites which have antimicrobial activity, but are less active than unchanged ciprofioxacin. Up to 70% of the parenteral dose may be excreted unchanged and within 24 hours and 10% as metabolites. Fecal excretion over 5 days has accounted for 20 – 30% of an oral dose and 15% of an intravenous dose.
Indications:
-Treatment of infections due to susceptible micro-organisms:
-Urinary tract infections.
-Acute sinusitis, and malignant otitis externa.
– Lower respiratory tract infections.
-Exacerbations of cystic fibrosis.
-Bone and joint infections.
-Skin and soft tissue infections.
-Gastrointestinal tract infections including biliary tract infections, infectious diarrhea, typhoid and paratyphoid fevers.
-Genital tract infections: prostatitis, gonorrhea and chancroid.
-Septicemia and peritonitis.
-Surgical infection prophylaxis.
-Meningococcal meningitis prophylaxis.
-Infections in immunocompromised patients (neutropenia).
-Inhalation anthrax.
Dosage and Administration:
Oral Route
Ciprocln® can be taken without regard to meals.
Clprocln® Tablets should be given every 12 hours.
Duration of therapy:
Depends upon the severity of infection.
Generally, Clprocin® should be continued for at least 2 days after the signs and symptoms of infection have disappeared, except for inhalational anthrax (postexposure).
Doses in Renal Function Impairment:
Creatinine Clearance (mUmln.)                         Dose
> 50 (Oral); > 30 (IV)                                     See usual dose.
30-50                                                             250 – 500 mg/12 hrs
5-29                                                              250 – 500 mg/18 hrs (Oral);
200 – 400 mg/18 -24 hrs (IV)
Haemodialysis or Peritoneal diatysis    250 – 500 mg/24 hours
(after dialysis)
Dosage In Hepatic Function Impairment:
No dosage adjustment except in severe impairment.
IV Route;
Ciprocin® Vials should be diluted prior to administration and given by intravenous (IV) infusion over 60 minutes.
Preparation of IV Dose:
Prepare the IV dose by aseptically withdrawing the appropriate volume of concentrate from the vial. Dilute before use with a suitable IV infusion to a final concentration of 1 – 2 mg/mL.
Admixture Compatibility/Stability:
Stable up to 14 days under refrigeration or at room temperature (5° – 25° C) when diluted with 0.9% sodium chloride injection or 5% dextrose injection, sterile water for injection, 10% dextrose for injection, 5% dextrose and 0.225% sodium chloride for injection, 5% dextrose and 0.45% sodium chloride for injection. If a Y – type IV infusion set or a piggyback method is used, temporarily discontinue the administration of any other solution during the Ciprocfn® infusion. Clprocin® is incompatible with amoxicillin, mezlocillin, flucloxacillin, pefloxacin, heparin sodium, frusemide, aminophylline and lecicoplanin.
Drug Interactions:
-As with other fluoroquinolones, concurrent use of aluminium, magnesium hydroxide antacids, iron and zinc salts or sucralfate is better avoided. ( Aluminium, magnesium, or iron preparations are not given within 4 hours ).
(Sucralfate can be given 6 hours before Ciprocin®).
-Concurrent administration of ciprolloxacin with caffeine, theophylline, dairy products or enteral feedings is better avoided.
-Ciprocin® may increase cyclosporine toxicity.
-Opioid premedication should not be used if Clprocln® is given for
surgical infection prophylaxis.
Precautions:
-Ciprocin® should be cautiously used in patients with known or suspected central nervous system disorders, or other faclors predisposing to seizures; impaired renal or hepatic function; G6PD deficiency; myasthenia gravis; elderly.
-Exposure to strong sunlight or sunlamps should be avoided.
-An adequate fluid intake should be maintained during treatment with Ciprocin® and excessive alkalinity of the urine avoided because of risk of crystalluria.
-Tendon damage may occur rarely with fluoroquinones and treatment should be discontinued if patients experience tendon pain, inflammation, or rupture; subsequent use of fluoroquinolones is contraindicated.
-The ability to drive or operate machinery may be impaired by Ciprocin®, especially when alcohol is also taken.
-Hyper- or hypoglycemia, usually in diabetic patients receiving
concomitant oral hypoglycemic agents or insulin, may occur with
quinolones.
Contraindications:
As with other quinolones, Ciprocln® is contraindicated in hypersensitivity to quinolones, tendinitis or tendon rupture associated with quinolone use, pregnant women or breast-feeding mothers, children and adolescents less than 18 years of age.
Side Effects:
Ciprocin® is generally well-tolerated. Most reactions are mild to
moderate. As with other quinolones, gastrointestinal disturbances e.g. nausea, vomiting, diarrhea, abdominal pain, dyspepsia,
pseudomembraneous colitis (rarely) ; central nervous system disturbances e.g. headache, dizziness, restlessness, tremor, drowsiness, insomnia, visual disturbances; skin reaclions e.g. photosensitivity, rash, pruritus; vaginitis; transient increases in serum creatinine, blood urea nitrogen, crystalluria; elevated liver enzymes; eosinophilia, leucopenia, thrombocytopenia; myalgia, tendinitis or tendon rupture; tachycardia, edema may occasionally occur. Pain and irritation may occur at the site of injection accompanied rarely by phlebitis or thrombophlebitis.
How Supplied:
Ciprocin® 250 mg Film-Coated Tablets: Box of 1 blister of 10 tablets.
Ciprocin® 500 mg Film-Coated Tablets: Box of 1 blister of 10 tablets.
Ciprocin® 750 mg Film-Coated Tablets: Box of 2 blisters of 5tablets
each.
Ciprocin® 200 mg Vials: Box of 1 vial of 20 ml.
Storage:
Tablets stored at temp. not exceeding 30′ C.
Vials stored at temp. IS' -30′ C.
this is aMedicament :
-Medicament is a product which affects your health. and its consumption contrary to lnsuuctions is dangerous for you.
-Follow strictly the doctor's prescription, the method of use, and the instructions of the pharmacist who sold the medicament.
-Ibe doctor and the pharmacist are experts in medicine, its benefits and risks.
-Do not interrupt the period of treatment prescribed by yourself.
-Do net repeat the same prescription without consuhing your doctor.
-Keep medicines out of the reach of children.
produced by :
EGYPTIAN INT. PHARMACEUTICAL INDUSTRIES CO.
E. I. P. I. CO.
h OF RAMADAN CITY, AREA Bl P.O.BOX 149 TENTH, EGYPT
—