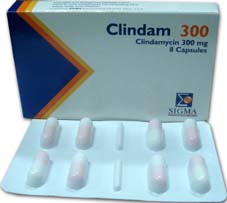 Clindam  Cepsules
Composition:
Each capsule contains: Clindamycin Hydrochloride equivalent to 150 mg or 300 mg Clindamycin.
Properties:
Clindamycin in-vitro activity covers the following organisms:
Gram-Positive: Aerobic organisms: Staphylococcus aureus,
Staphylococcus epidermis (both penicillinase and non-penicillinase
producing strains), Streptococci (except S.faecalis), pneumococci.
Anaerobic organisms: Non spore forming Bacilli such as
Propionibacterium species. Gram-Negative: Anaerobic Bacilli such as Bacteroides species and Fusobacterium species.
Indications:
Infections with microorganisms susceptible to Clindamycin such as:
– Respiratory tract infections.
– Skin and soft tissue infections.
– Dental infections.
– Genital and post-surgical infections.
Contraindications:
Clindamycin demonstrates cross resistance with Lincomycin.
Some Staphylococcus strains originally resistant to Erythromycin
rapidly develop resistance to Clindamycin. Clindam is constrained in patients with history of hypersensitivity to Clindamycin or Lincomycin. Usage in pregnancy: Safety for use during pregnancy has not been established.
Side Effects:
Gastrointestinal disturbances: abdominal pain, nausea, vomiting and diarrhoea may occur.
Dosage:
Mild to moderately severe infections: 150 to 300 mg every 6 hours.
Severe infections: 300 to 450 mg every 6 hours.
Presentation:
Clindam 150 mg capsules: A box containing 2 blisters, each of 8 capsules.
Clindam 300 mg capsules: A box containing 1 blister of 8 capsules.
A box containing 2 blisters, each of 8 capsules.
Produced by
SIGMA Pharmaceutical Industries. Egypt. SAE.