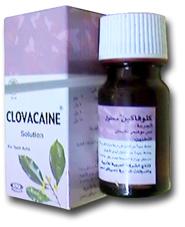 CLOVACAINE®
SOLUTION
Composition:
Each 15 ml solution contains:
Lignocaine hydrochloride          0.3 gm
Geranium Oil                                     2ml
Clove Oil                                              1 ml
Alcohol add to                                  15 ml
Properties:
Glovacaine-solution-is a dental preparation specially formulated. to be applied to painful carious teeth. It includes lignocaine hydrochloride which is considered to be the most generally satisfactory local anaesthetic at present
available, non-irritating and relatively stable in the tissues where it spreads readily. The onset is rapid and loss of sensation may be maintained for several hours. The number of undesirable effects which has been recorded with Clovacaine is less than with similars containing lignocaine. Clovacaine also contains clove oil which is a popular well known volatile oil used in dental practice as a germicide and analgesic. Geranium oil is incorporated in clovacaine to improve the odour of the solution.
Indications:
* Toothache.
* Dental caries.
Side Effects:
No health hazards or side effects are known in conjunction
with the proper administration of designed therapeutic dose.
Mode of application :
Clovacaine solution is applied on a piece of cotton to the
carious teeth as required or as directed by the dentist.
Pack:
• Bottle of 15 ml.
Storage:
Store in a cool dry place not more than 30°C.
Keep all medications out of reach of children
Produced By :
Arab Company For Pharmaceuticals and Medicinal plants
MEP ACO – Egypt ( Enshas El RamI – Sharkeiya )