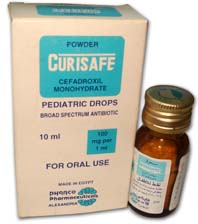 CURISAFE
500 mg Capsules,
125 mg/5 rnl ana 250 mg/5 ml
Powder for Oral Suspension and 100 mg / ml Pediatric Drops
Cefadroxil monohydrate BROAD SPECTRUM ANTIBIOTIC
Properties :
Curisafe (Cefadroxil monohydrate) Is abactericidal first generation cepnalosporin. It interferes with the terminal step in bacterial cell-wall synthesis and, thereby,
exerts a bactericidal activity against both Gram-positive and Gram-negative
microorganisms. Cefadroxil is markedly resistant to hydrolysis by beta-
lactamase. As a result, all infections caused by bacteria that elaborate this
enzyme are efficiently treated with Curisafe.
Kinetic Properties :
Curisafe is readily absorbed from GIT without being affected by gastric acid or the presence of food. Peak blood concentrations are achieved vvitldll 1.5 to 2 1I00ls dlld llleasurable levels are prtisenr12 hours after oral administration . The drug is eliminated from the body unchanged in the urine with a plasma half-life of about 1.5 hours. The urine-Curisafe concentration is maintained well above the MIC of susceptible urinary pathogens throughout the dosing interval (12 hours).
Bactericidal Spectrum :
Curisafe exhibits an outstanding effectiveness against a wide range of Gram-positive pathogens including beta-Iactamase and non-beta- lactamase producing staphylococcl.f-hernotytlc streptococci, Streptococcus pneumoniae and Streptococcus pyoqene . Itisals()tlffe ve aqains severar Gram-negative organisms such as Escherichia coli, Klebsiella pneumoniae and some strains of Proteus mirabilis, Haemophilus influenzae, Salmonella
species and Shigella species.
Indications :
Curisafe is indicated in the treatment of infections caused by susceptible
strains of Gram-positive and Gram-negative bacteria:
* Infections of the Respiratory Tract; such as tonsillitis, pharyngitis,
laryngitis, bronchitis, bronchopneumonia, bronchiectasis, pulmonary
abscess, empyema, pleurisy, sinusitis.Slnd otitis media.
* Infections of the Skin and Soft Tissues; such as cellulitis, erysipelas,
pyodermia, lymphangitis, abscesses, decubitus ulcers, mastitis,
furunculosis, impetigo and infected traumatic and postoperative wounds.
* Infections of the Genitourinary Tract; such as pyelonephritis, cystitis,
urethritis, adnexitis, endometritis and other gynecologic infections.
* Other Infections of the Body; such as osteomyelitis, septic arthritis,
intraabdominal infections and dental infections.
Contraindications :
– Hypersensitivity to cephalosporins.
Precautions :
As with other cephalosporin preparations, Curisafe should be used during
pregnancy only if clearly indicated. In patients with renal impairment, the
dose of Curisafe must be reduced
Dosage :
Adults: 0.5 – 1 g (1 – 2 capsules) every 12 hours according to the severity
of condition, or as prescribed by the physician.
Children : 30 – 50 mg / kg / day of reconstituted suspension ( 125 or 250
mg / 5 ml ) in divided doses every 12 hours.
Infants: 5 – 15 pediatric drops (100 mg / ml ) every 12 hours.
Curisafe is administered regardless of meals. In patients with sensitive
stomach, administration with food is helpful in minimizing potential
gaastrointestinal complaints.
Directions for reconstitution of oral suspension and pediatric drops:
The bottle is tapped lightly to lossen powder. Water is added gradually and
the bottle is shaken well after each addition till the suspension reaches level
of the mark on the bottle. The resultant suspension provides cefadroxil
activity of 125 or 250 mg per 5 ml of oral suspension or 100 mg per ml of
pediatric drops. It is stable for 14 days when kept under refrigeration (4°C)
or 7 days at room temprature not exceeding 250 C .
Adverse Reactions :
Curisafe, beinq almost completely absorbed from the gastrointestinal tract,
might cause nausea, abdominal cramps and diarrhea. Less common side effects include urticaria, skin rash, angioneurotic edema and transient leucopenia. Curisafe is usually well-tolerated by patients allergic to penicillin. As cross-allergenicity between penicillin and cephalosporins might be encountered, caution is recommended when Curisafe is administered to patients with a history of penicillin allergy.
Packing:
– A box containing 8 capsules, 500 mg of cefadroxil activity per capsule.
– A bottle containing powder for suspension to rovide 125 mg or 250 mg of cefadroxil activity per 5 ml of the reconstituted suspension.
– A bottle containing powder for suspension to provide 100 mg of cefadroxil
activity per ml of the reconstituted suspension.
Storage:
Keep at room temperature not exceeding 25 0 C away from moisture.
Keep all medications out of the reach of children.
produced by :
Farco B intarnational – alexandria