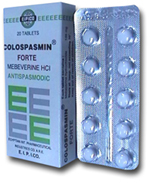 COLOSPASMIN FORTE
Tablets
Antiispasmodic
Composition:
Each tablet contains:
Mebeverine hydrochloride …. 135 mg
Properties:
Colospasmln® Forte (mebeverine) is a musculotropic antispasmodic used in gastrointestinal disorders. It has a direct action on colonic muscular activity, especially in colonic hypermolility. Colospasmln® Forte, being entirely a smooth muscle relaxant without atropine-like effects, is not contraindicated in patients with glaucoma or prostatic hypertrophy.
Pharmacokinetics:
Following oral administration, mebeverine is absorbed from the gastrointestinal tract; peak plasma concentrations are achieved within 1 – 3 hours after dosing. Mebeverine is about 75% bound to plasma proteins, and is completely metabolized by hydrolysis to veratric acid and mebeverine alcohol. The metabolites are excreted in the urine.
Indications:
• Primary irritable colon characterized by persistent diarrhoea, alternating constipation and diarrhoea, abdominal pain and postprandial distention.
• Secondary irritable colon due to organic lesions such as regional enteritis, diverticulitis, specific and non-specific inflammations of the gastrointestinal tract.
Dosage and Administration:
Adults: 1 tablet 3 times daily, preferably before meals.
– Not recommended for children.
Precautions:
*  Coloapasmin@Forteshould be used with caution in:
– Patients with marked hepatic or renal impairment.
– Patients with cardiac disorders such as heart block,
– Antispasmodics, including Colospasmln®forte, are not recommended tor the symptomatic treatment of distal intestinal syndrome in cystic fibrosis.
* Though experiments in rats and rabbits have shown mebeverine hydrochloride not to be teratogenic, Coiospasmin®forte is better avoided during pregnancy.
* Colospasmln®forte is considered to be unsafe in patients with porphyria.
* Treetment of overdoaage: There is no specific antidote; gastric lavage and symptomatic treatment are recommended.
Contra-indications:
– Hypersensitivity to the product.
– Paralytic ileus.
Side – Effects:
• Colospasmln@Forte has proved to be well-tolerated In therapeutic doses. The side effects are rare; they may include gastrointestinal distrurbances, dizziness, headache, insomnia, and depression. In' very rare cases allergic reactions have been reported especially erythematous rash. urticaria and angio-eodema.
STORAGE:
Store at temperature not exceeding 30.
Packaging:
Colospasmln@Forte Tablets :Blisters of 10 tablets each.
Colospasmin@Forte Tablets :Boxes of 20 or 1000 tablets;each.
This Is a Medicament :
– Medicament is a product which affects your health, and its consumption contrary to instructions is dangerous for you.
– Follow strictly the doctor's prescription, the method of use, and the instructions of the pharmacist who sold the medicament.
– The doctor and the pharmacist are experts in medicine, its benefits and risks.
– Do not by yourself interrupt the period of treatment prescribed.
– D0 not repeat the same prescription without consulting your doctor.
– Keep all medicines out of reach of children.
MANUFACTURED BY :
E.I.P.I.CO.
EGYPTIAN INT. PHARMACEUTICAL INDUSTRIES CO.
TENTH OF RAMADAN CITY,AREA  EGYPT ..