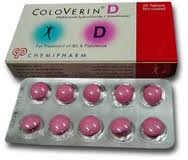 COLOVERIN®D
For Treatment of IBS & Flatulence
Composition:
Each film coated tablet contains:
Mebeverine HCL         135 mg.
Dimethicone                 4Omg.
Properties:
Mebeverine hydrochloride is a musculotropic spasmolytic with a strong and selective action on the smooth muscle spasm of the gastrointestinal tract,particularly of the colon.Dimethicone, is a gastrointestinal protective agent with antifoaming action. It
is used in the treatment of problems due to excess gastrointestinal gases such as flatulence and abdominal discomfort.
Indications:
Treatment of functional bowel disorders such as:
– Irritable bowel syndrome
– Abdominal pains
– Flatuence
–  Distension and dyspepsia
– Postoperali ve gas pains
Dosage:
One tablet 3 or 4 times daily, preferably 20 minutes before meals.
Contraindications:
Hypersensitivity to any component of the product.
Side effects:
No adverse effects attributable to mebeverine hydrochloride or dimethicone have been reported.
Presentation:
Strips, each contains 10 tablets.
Storage:
Store below 30· C.
Produced by:
Chemipharm Pharmaceutical Industries
6th October City – Egypt