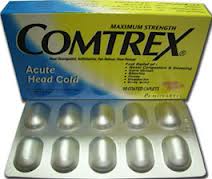 Comtrex
acute head cold
ACTIVE INGREDIENTS:
Each caplet contains:
Acetaminophen                              500 mg.
Pseudoephedrine HCL                  30mg
Brompheniramine Maleate          2mg.
INDICATIONS:
For temporary relief of the following symptoms associated with common cold & flu: minor aches, pains, headache, muscular aches, sore throat pain, and fever; nasal congestion, and sinus pressure; runny nose and sneezing.
DOSAGE & ADMINISTRATION:
Adults and children 12 years of age and over: 2 caplets every 6 hours, while symptoms persist, not to exceed 8 caplets in 24 hours, or as directed by your doctor.
Do not use for children under 12 years of age.
WARNINGS & PRECAUTIONS WHILE USAGE:
– Keep medicines out of children's reach.
– In case of overdose get medical help or contact a Poison Control Center right away Prompt medical attention is critical for adults as well as children even if you do not notice any signs or symptoms.
– If you are pregnant or nursing a baby, seek the advice of a health professional before using this product.
– Do not take this product for more than 7 days without consulting a doctor.
– If sore throat is sever, persists for more than 2 days, is accompanied or followed by  fever, headache, rash, nausea, or vomiting, consult a doctor promptly.
– If nervousness, dizziness, or sleeplessness occur, discontinue use and consult a doctor.
– If symptoms do not improve within 7 days or are accompanied by fever, consult a doctor.
– Consult a doctor before using this product if you have breathing problems such as
emphysema er chronic bronchitis, beart..disease,-high blood pressure, th¥UWl disea diabetes, glaucoma, or difficulty in urination due to enlargement of prostate gland.
– This product may cause excitability especially in children.
– May cause drowsiness, hence, use caution when driving a motor vehicle or operating machinery.
– Avoid alcoholic beverages while taking this product.
– Consult a doctor before using this product if you are taking tranquilizers.
DRUG INTERACTION PRECAUTION:
– Do not use this product if you are now taking a prescription monoamine oxidase inhibitor (MAOI) (certain drugs for depression, psychiatric or emotional conditions, or Parkinson's disease), or for 2 weeks after stopping the MAO! drug.
– If you are uncertain whether your prescription drug contains an MAOI, consult a health professional before taking this product.
OVERDOSE:
Acetylcysteine as an antidote for acetaminophen overdose.
HOW SUPPLIED:
Box of 10 coated red caplets.
STORAGE:
Store below 30° C, avoid excessive heat, and protect from light.
Produced by :
GlaxoSmithK1ine Egypt
For Novartis Pharma Egypt
Under license from
Novartis Con-;umer Health, Switzerland