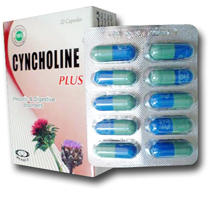 Cyncholine plus"
capsules

Composition:
Each capsule contains:
Cynara dry extract                             100 mg
Silymarin                                                50 mg
Mentha dry extract                            25 mg
Heavy Mg. Oxide                                 40 mg
Properties :
Cyncholine plus capsules combine cynara dry extract, Silymarin with mentha dry extract together with heavy magnesium oxide to act in a synergistic way as digestive preparation that stimulates the gall bladder and liver functions.
Silymarin has been used for the treatment of hepatic disorders and regenerating injured liver cells. Cyncholine plus is a powerful antioxidant, through it's content of silymarin that protects the liver from potentially liver damaging
drugs. Cynara dry extract is reputed to have a chloretic property therefore
increases cholesterol elimination. Mentha dry extract has a carminative action and stimulates motility of the stomach and thus relieves abdominal flatulence.
Heavy magnesium oxide is an antacid which reacts with HCL in the stomach to form soluble magnesium chloride. It doesn't produce alkalosis. Magnesium ion has a selective relaxing action upon the sphincter of Oddi, when it reaches the duodenum it produces contraction of the gall bladder and biliary drainage in cholecystitis and cholesterol gall stone formation.
Indications:
1- Liver and gall bladder complaints.
2- Dyspeptic complaints.
3- Liver support.
Side Effects:
No documented side effects.
Dose:
1-2 capsules 3 times daily or as recommended by the physician.
Pack:
• Box containing 2 strips each contains 10 capsules.
Storage:
Store in a cool dry place not more than 30° C.
Keep all medications out of reach of children
Produced By :
Arab Company For Pharmaceuticals. and Medicinal plants
MEP ACO – Egypt ( Enshas Ell RamI – Sharkeiya )