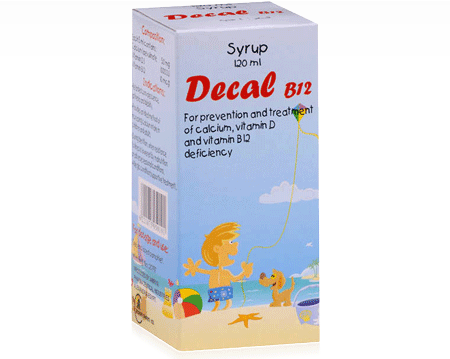 Decal B12
For prevention and treatment of calcium, vitamin D and vitamin 812 deficiency
Composition:
Each 5 ml syrup contains:
Calcium laevulinate                   50 mg
Vitamin D3                                    1000IU
Vitamin B12                                  10 mcg
Properties:
– Calcium is essential for bone formation and extra amounts are needed during adolescence.
– Vitamin D improves absorption and utilisation of calcium by regulating the body's calcium-phosphorus ratio.
– Vitamin 812 is essential to cell metabolism and assists in the synthesis of nucleic acid.
Indications:
– Retarded convalescence, asthenia, anorexia and debility.
– Provides an ideal method of increasing calcium intake   in children and adults due to increased physiological
demand, or following partial or total gastrectomy.
– Osteopenia and Osteoporosis (Senile and post  menopausal).
– During dentition.
– When resistance to illness is lowered by malnutrition or adverse seasonal conditions.
– Allergic conditions (supportive treatment).
Dosage:
Infants: 1\2- 1\4  teaspoonful.
Children: 1\2 – 1 teaspoonful.
Adults: one teaspoonful.
These doses should be taken once a day.
Decal B12 syrup can be taken with milk or water or directly from the spoon.
Presentation:
Bottle of 120 ml syrup.
THIS ISA MEDICAMENT :
– Medicament is a product which affects your health, and its consumption contrary to instructions is dangerous for you.
– Follow strictly the doctor's prescription, the method of use and the instructions of the pharmacist who sold the medicament.
– The doctor and the pharmacist are experts in medicine, its benefits and rtsks.
– Do not by yourself interrupt the period of treatment prescribed for you.
– Do not repeat the same prescription without consulting your doctor.
– Keep medicaments out of the reach of children
Produced by :
AmRIYA PHARm. IND
ALEXANDRIA I EGYPT