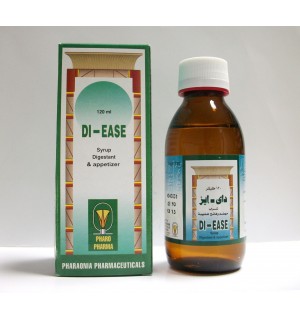 Di Ease
Digestant & Antiflatulent Appetizer
Syrup (Sugar-free)
COMPOSITION:
Each 5 ml ( one teaspoonful) of DI-EASE syrup contains:
Papain ( 6000 IU )                 80 mg
Weak ginger tincture             0.05 rnl
Belladonna tincture               0.05 rnl
PROPERTIES:
DI-EASE syrup Is a palatable sugar-free syrup formulated to promote complete digestion of food substances, reduce gas formation and improve appetite. DI·EASE syrup contains papain which supplements the proteolytic enzymes of the digestive
secretions to enhance the breakdown of proteins in the diet Into peptones and small peptldes . DI-EASE syrup also contains ginger tincture which stimulates the secretion of bile essential for the digestion of fats, the absorption of the end-products af fat digestion and the absorption of fat-soluble vitamins. Ginger also contains a
protease and has a carminative effect which is beneficial In relieving flatulence. The anti muscarinic effect of the small dose of belladonna tincture, in DI-EASE syrup, helps reduce the increased gastrolntestinal motility which may occur in cases of maldlgestion. Thus, the combined effects of the active Ingredients of DI-EASE syrup ensure high efficacy in a wide range of gastrolntestlnal disorders associated with impaired digestion. flatulence and poor appetite In children, adults and diabetic patients (DI-EASE syrup Is sugar-free) .
INDICATIONS:
– Functional indigestion due to digestive enzyme deficiency or imbalance, with symptoms such as dyspepsia, postprandial discomfort, epigastric fullness and flatulence.
– Inadequate digestive secretory function due to diseases such as chronic gastritis, pancreatitis and enteritis or chronic parasitic diseases ( e.g. bilharziasis and amebiasls ).
– Digestive disturbances following surgery on the stomach or small intestine.
– loss of appetite and anorexia nervosa.
DOSAGE:
Children: one teaspoonful 3 times daily during or just after meals.
Adults : one tablespoonful 3 times daily during or just after meals.
PACKING:
A bottle containing 120 ml.
SIDE EFFECTS:
DI-EASE syrup is safe in children, adults and diabetic patients with no side effects.
STORAGE:
Keep at a temperature (15-30°C).
Keep out of reach of children.
Produced by :
PHARAONIA PHARMACEUTICALS
NEW BORG EL· ARAB CITY ALEXANDRIA, A.R.E.