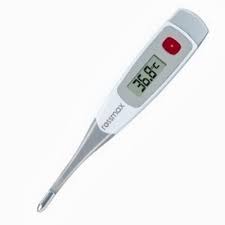 DIGITAL THERMOMETER
OWNER'S MANUAL
Warning:
– Read instructions thoroughly before using digital thermometer
– Choking Hazard: Thermometer cap and battery may-be-fatal if swallowed Do not allow children to use this device without parental supervision.
– Do not use thermometer in ear. Designed use is for oral, rectal, and armpit (axilla) readings only.
– Do not place thermometer battery near extreme heat as it may explode.
– Note: Use of the probe cover may result in a 0.I·C(0.2″F) discrepancy from actual temperature.
– It is recommended the performance should be checked every two years.
– Remove battery from the device when not in operation for a long time.
PLEASE READ CAREFULLY BEFORE USING :
This digital thermometer provides a quick and highly accurate reading of an individual's body temperature. To better understand its functions and to provide years of dependable results, please
read all instructions first. This thermometer is manufactured according to the system of EN 12470-3:2000+AI :2009,
And the manufacturer is ISO 9001 :2008 and ISO 13485:2003
CONTENTS :
I Thermometer, J Owner's Manual, 1 Storage Case
PRECAUTION :
– Do not bend or drop thermometer. It is not shockproof.
– Do not boil probe to disinfect.
– Do not store in direct sunlight or in areas of extreme heat.
– Do not disassemble. See BATTERY REPLACEMENT to replace battery.
– Avoid strong electromagnetic interference such as microwave ovens and cell phones.
–  Direct Current.
– Type B Applied Part .
–  Caution, consult accompanying documents.
SPECIFICATIONS :
Range: 32.0·C -42.9·C (90.0″F -I 09.9″F) CC I"F chosen by manufacturer)
Accuracy: +0.I·C,35.S·C 42.0·C +0.2 "F,9S.9·Y -107.6″F ±0.2·C under 35.5·C or over 42.0·C (:l-0.4″F under 95.9″F oroverI07.6″F)
at ambient temoerature of 18″C to 28·C (64.4″F to 82.4″F)
Display: Liquid crystal display, 3 1/2 digits
Memory: For storing the last measured value
Battery: One 1.5 V DC. button battery (size LR41 or SR41, UCC 392)
Battery life: Approx 200 hours
Dimension: 12.4cm x 1.8cm x O.9cm (Lx Wx H)
Weight: Approx. 10 grams including battery
Using environment: Temperature: 5·C~40·C (41″F ~104″F) Relative humidity :< 85 %RH
Storage and transportation condition : Temperature: -10·C-55·C (14″F~131″F) Relative humidity: <95 % RH
Waterproof level : Not water-resistant
Classification : Type B
DIRECTIONS :
1- Wipe or dip thermometer probe with isopropyl rubbing alcohol to disinfect.
2- Press the On/Off Button next to LCD display. A tone will sound as the screen shows 100.Efollowed by last recored temperature. After showing the self-test temperature, the thermometer is now in the testing mode.
*Note: Ifthe measured temperature is less than 32″C or 90″F, the LCD will display Lo, if the measured temperature is higher than 42.9·Cor I09.9″F, the LCD willdisplay Hi.
3- Position thermometer in desired location (mouth, rectum, or armpit.)
* Oral Use: Place thermometer under tongue as indicated by " .j "
position shown in Figure 2. Close your mouth and breathe evenly
through the nose to prevent the meMurement from being influenced
by inhaled/exhaled air. Normal temperature between 35.7 'C and 37.3 'C (96.3″F and 99.1″F)
* Rectal Use: Lubricate silver probe tip with petroleum jelly for easy insertion. Gently insert sensor approximately I cm (less than 112 ") into rectum. Normal temperature between 36.2 "C and 37.7 "C (97.2″F and 99.9″F).
* Armpit Use: Wipe armpit dry. Place probe in armpit and keep arm pressed firmly at side. From a medical viewpoint, this method will always provide inaccurate readings, and should not be used if precise measurements ~<\.l!ir.e.d.JiQrmaLtempJ:ratuJe between J:; 2 'C
(95.4″F and 98.l"F).
4- The degree sign flashes throughout the testing process. When flashing stops an alarm will beep for approximately 10 seconds. The measured reading will appear on the LCD simultaneously. The
displayed temperature will not change when thermometer is removed from its testing position.
* Note: Normally the buzzes are" Bi+Bi+Bi+ Bi-" ; Alarm beeps more rapidly when temperature reaches 37.8·C (IOO"F) or higher ,and the buzzes are "Bi-Bi-Bi—– Bi-Bi-Bi——- Bi-Bi-Bi "
5- To prolong battery life, press the On/Off Button to turn unit off after testing is complete. lfno action is taken, the unit will automatically shut off after around 10 minutes.
BATTERY REPLACEMENT :
1- Replace battery when" • " appears in the lower right corner of LCD display.
2- Pull battery cover offas shown in Figure 3.
3- Gently pull out plastic circuit board with battery chamber approximately I cm (slightly less thanl/2″.) (See Figure 4)
4- Use pointed object such as a pen to remove old battery. Discard battery lawfully. Replace with new 1.5 DC button type LR41 or SR41 ,UCC392, or equivalent. Be sure battery is installed with "+" polarity facing up. (See Figure 5)
5- Slide battery chamber back into place and attach cover.
LIMITED WARRANTY :
The thermometer is guaranteed for one year from the date of purchase. If the thermometer does not function properly due to defective components or poor workmanship, we will repair or replace it free of charge. All components are covered by this warranty excluding the battery. The warranty does not cover damages to your thermometer due to improper handling. Toobtain warranty service, an original or copy of the sales receipt from the original retailer is required.
PRODUCED BY :
Disposal of this product and used batteries should be carried out
in accordance with the national regulations for the disposal of
electronic products.