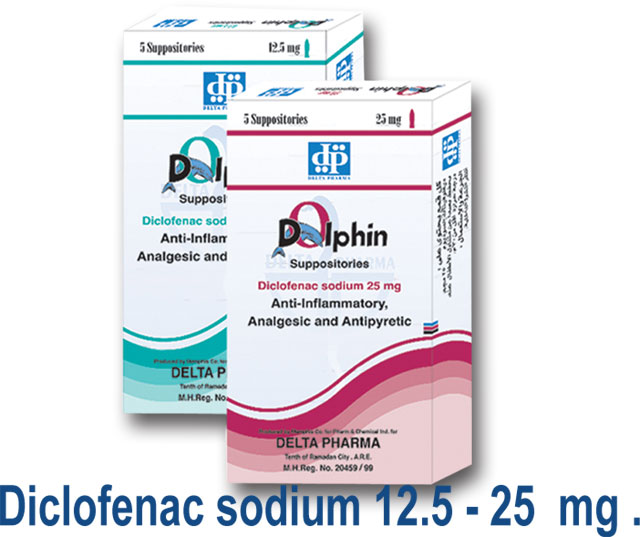 Dolphin Suppositories
Diclofenac sodium 12.5,25 mg
Composition:
Each suppository contains:
Active ingredients:
DicIofenac sodium                                      12.5,25  mg
Inactive ingredients:
Isopropyl Myristate                                     10 mg
Adeps solidus (Hard Fat)                           1 mg
Mechanism of action:
Dolphin suppositories (DicIofenac sodium) has pharmacological actions similar to those of other NSAIDs. The drug exhibits antirheumatic, anti-inflammatory, analgesic, and antipyretic activity.
The exact mechanisms have not been clearly established, but many of tbe actions appear to be associated principally with the inhibition of prostaglandin synthesis.
Pharmacokinetics:
Absorption
Following rectal administration of Dolphin suppositories (Diclofenac sodium) in healthy adults, peak plasma diclofenac concentrations are attained within about I hour.
Distribution
Dolpbin suppositories (Diclofenac sodium) extensively but reversibly bound to serum proteins, mainly albumin. At plasma diclofenac concentrations of 2-10 ug/ml, the drug is 99-99.8% protein bound in vitro.
The plasma concentrations observed in children after administra- tion of equivalent doses are similar to those reached in adults. Diclofenac enters the synovial fluid and the maximum concentrations are measured 2-4 hours after peak plasma values
has been obtained. The half-life of elimination from the synovial fluid is 3-6 hours. After 2 hours from reaching peak plasma concentration, the concentration of diclofenac in the synovial fluid became higher than in plasma, and remain higher for up to 12 hours.
Elimination:
Dolphin suppositories (Diclofenac sodium) is excreted mainly about 60 % via kidneys as inactive metabolites, and about 39 % are excreted in the bile through the feces after glucuronidation. And about 1 % is excreted unchanged. Half-life is about 1-2 hours
Indications:
Dolphin suppositories (Diclofenac sodium) is an anti-inflammatory. Antirheumatic, antipyretic and analgesic in different kinds of pains including:
1- Adjuvant treatment in case of painful inflammatory infections of the ear e.g. Otitis and the throat e.g. pharingitis and tonsillitis together with the other prescribed drugs
2- Juvenile rheumatoid arthritis.
3- After teeth extraction and after tonsillectomy.
4-Painful post-operative inflammation and swelling.
5-Painful syndrome of the back bone.
6-Dolphin is used for anti-inflammatory and analgesic effects in the symptomatic treatment of acute and chronic rheumatoid atthritis, osteoarthritis, and ankylosing spondylitis.
Dosage and administration:
The dose is calculated according to the child body weight. The dose range is between 0.5 – 2 mg I kg body weight daily according to the severity of the case. And in case of Juvenile rheumatoid arthritis the dose can be increased to 3 mg I kg body weight daily on 2 -3 divided doses for maximum 4 days.
Contraindications:
contra-indicated in patients with a history of hypersensitivity to aspirin or any other NSAID- which includes those in whom attacks of asthma, angioedema, urticaria or rhinitis have been precipitated by aspirin or any other NSAID Peptic ulcer, Severe heart failure.
Side effects:
Hypersensitivity reactions (particularly rashes, angioedema, and bronchospasm. Patients may rarely suffer from gastrointestinal troubles. suppositories may cause rectal irritation.
Drug interactions:
Concomitant use of corticosteroids during NSAIDs therapy may increase the risk of GI ulceration; therefore NSAIDs should be used with caution when used concomitantly with corticosteroids
Precautions and warnings:
should be used with caution inallergic disorders, in patients with a history of GI disease, coagulation defects, In patients with renal, cardiac, or hepatic impairment caution is required since NSAIDs may impair renal function.
Cardiovascular Risk:
NSAlDS may cause an increased risk of serious cardiovascular thrombotic events, myocardial infarction, and stroke, which can be fatal,
This risk may increase with duration of use. Patients with cardiovascular disease or risk factors for cardiovascular disease may be at greater risk NSAIDS is contraindicated for the treatment of peri-operative pain in the setting of coronary .artery bypass graft (CABGl surgery.
Gastrointestinal Risk:
NSAIDS cause an increased risk of serious gastrointestinal adverse events including inflammation, bleeding, ulceration.and perforation of the stomach or intestines, which can be fatal. These events can occur can at any time during use and without warning symptoms.Elderly patients are at greater risk for serious gastrointestinal events .
• Not used for children less than 6 years
Package & storage:
Carton boxes contains I(PVC) strip of 5 suppositories of 12.5 mg or of 25 mg.
Store in a temperature not exceedln 30°C.
–  Keep out of reach of children  To be used under medical supervision
Produced by :
DELTA PHARMA S.A.E.
Tenth of Ramadan City, A.R