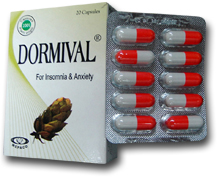 Dormival
Capsules
Composition:
Each capsule contains:
Valeriana Dry Extract
Humulus Lupulus Soft Extract
Properties:
Dormival capsule is a combination of Valeriana and Humulus extracts that are
considerd a powerful sedative and hypnotic extracts which act synchronously to achieve sedation and induce sleep. Valeriana extract in Dormival capsule was found to be effective in reducing the sleep induction time,and this effect was thought to be due to its action on GABA (gamma-aminobutyric acid) as valeriana extract increases the level of GABA at the synaptic cleft through decreasing its re-uptake, valeriana extract also contains high levels of glutamine which crosses the blood brain barrier and is converted to
GABA. GABA and Glutamine are considered inhibitory neurotransimitters responsible for sleep induction and sedation. Humulus Lupulus Soft Extract in Dormival composed of humulone,lupulone,Volatiie oil (humulenel.resins and flavonoids which have a sedative and sleep-inducing effects.
Dormival as natural remedy for relieving insomnia and anxiety can be used safely and can be stopped safely without inducing any withdrawal symptoms.
Dormival capsule is powerful remedy for relieving all types of insomnia and
anxiety disorder without inducing any addiction or habituation.
Indications:
1- Insomnia and sleep disorders.
2- Nervousness and Anxiety disorders.
Side Effects:
No health hazards or side effcts are known with the proper administration of
Dormival capsules.However long -term administration may cause
headache,resltlessness, insomnia, mydriasis, and disorders of cardiac function.
Contraindications:
Use of valeriana during pregnancy or in nursing mothers is not recommended.
Drug Interaction:
Valeriana may potentiate the effect of eNS depressants, barbiturates and
benzodiazepines.
Dose:
2 – 3 capsules before bed time.
Pack:
Box containig 2 strips each one contains 10 capsules.
Storage:
Store in a dry place at temperature not exceeding 30°e.
Keep all medications out of reach of children
ARE 31210002 -vrs1
Produced by:
Arab Co. for Phannaceuticals & Medicinal Plants (MEPACO-MEDIFOOD)
Enshas El Rami – Shari<eya – EGYPT