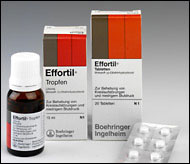 Effortil
Effortil is a reliable oral circulatory analeptic with a stimulant effect on the cardiovascular system. It raises low blood pressure to normal, improves cardiac performance, reduces the circulation time, and increases the quantity of circulating blood. Pulse rate remains u'nchanged. Effortil is well tolerated by patients of any age; its efficacy is reliable regardless of the mode of administration.
Indications:
Circulatory failure, circulatory collapse in comatose conditions, during and after infectious diseases, myocardial infarction, surgery, parturition, accidents, conditions arising from intoxication, tumor cachexia, hypotension, hypotensive circulatory disorders, orthostatic dysregulation. In constitutional asthenia, chronic infectious diseases, during convalescence, after surgery and parturition, during pregnancy and
the years of growth. Prevention of circulatory incidents in minor diagnostic and therapeutic interventions, certain types of vasomotor headache, tendency to
collapse associated with the dumping syndrome, oversensitivity to weather.
Contra-Indication :
Jhyrotoxicosis.
Administration and dosage :
Effortil Drops :     Adults :     3-6 drops     3 times a day
Children:     3-6 drops     2-3 times a day
Babies:     1-3 drops     2-3 timesCl day
Effortil Tablets:   Adults : 0.5-1 tablet     3 times a day
Children:     0.5-1 tablet     2-3 times a day
Dosage must be adjusted to the individual requirements of the patient, dependent upon the response of blood pressure and pulse rate.
– Effortil may be taken with water before or after meals.
– For children, drops or tablets are best dissolved in a teaspoonful of sugar-water.
Composition and availability :
Effortil is 2-Ethylamino-1-( 3-hydroxyphenyl) ethanol hydrochloride { Etilefrine-HCL } and is available as :
Tablets of 5 mg : Boxes of 20 tablets ( 2 strips each contains 10 tablets ).
Solution containing 7.5 mg/g : Bottles of 15 gm
Storage:
keep at room temperature ( 15 – 30 rC
Product of :
CHEMICAL INDUSTRIES DEVELOPMENT (CID)