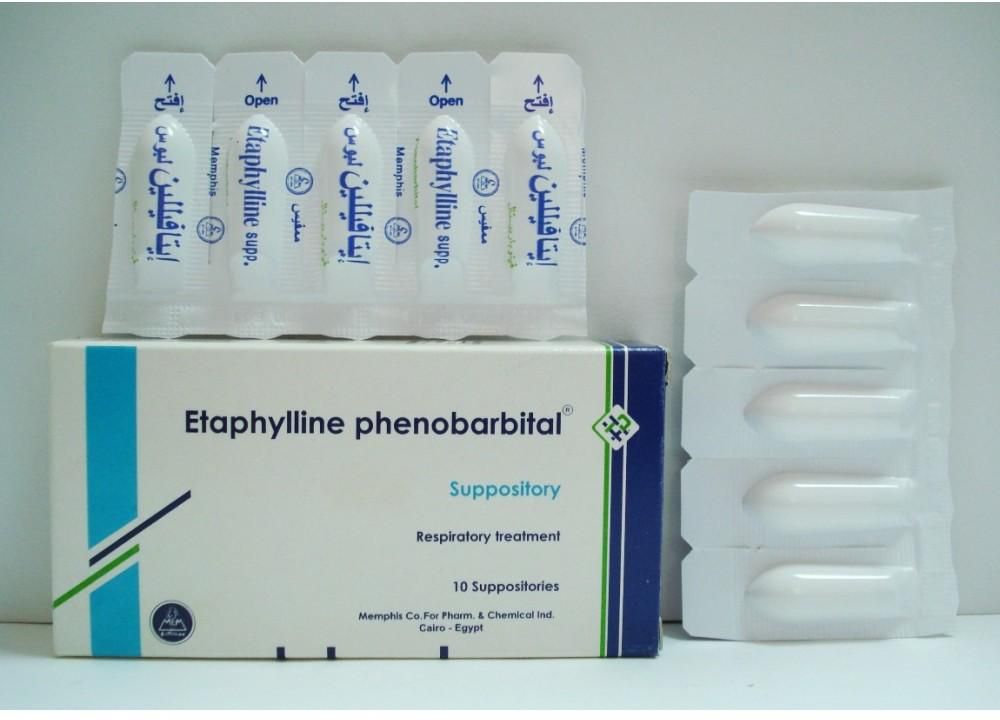 Etaphylline phenobarbital
Suppository
Generic name :
Acefylline piperazine + phenobarbital.
Composition :
Each suppository contains:
Acefylline piperazine             500 mg
Phenobarbital                         100 mg
Excipient: SuppocireA
Pharmaceutical form :
suppository
Pharmacological actions :
Acepifylline (Acefylline piperazine) is a theophylline derivative which is used for its bronchodilator effects. Phenobarbital is used as a sedative in adults.
Indications :
Etaphylline phenobarbital suppository is indicated in chronic respiratory disease.
Dosage & administration :
One suppository or as prescribed by the physician.
Contraindications :
Hypersensitivity to any component of the product.
Side effects :
Some of the following side effects may occur in some-cases;
Nausea, vomiting, insomnia, headache and palpitation, general signs of central sedation (confusion, fatigue, vertigo
Drug interactions :
– Uses with other xanthines medication should be avoided.
– Simultaneous administration of CNS depressants medications and/or alcohol with Etaphylline phenobarbital suppository can potentiate their mutual effects.
Pregnancy and lactation :
Etaphylline phenobarbital suppository should not be administered during pregnancy and lactation.
Precautions & warnings :
– Etaphylline should be administered with caution to elderly patients and those suffering from cardiac and liver disease.
– Caution should be taken in patients with respiratory insufficiency due to the respiratory depressant effect of phenobarbital.
Therapeutic category :
bronchoditator and sedative
Legal category :
P.O.M.
Storage :
Store at a temperature not exceeding 30°C, away from light.
Package :
Carton Box containing 5 or 10 suppositories in polyethylene strips
Produced by :
Memphis Co. For Pharm & Chemical ind – Cairo – Egypt