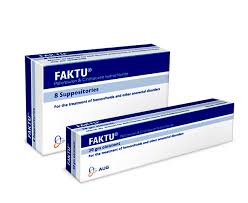 FAKTU® suppositories
for rectal (internal) application
Composition :
1 suppository contains:
Active ingredients
Policresulen 100 mg
Cinchocaine hydrochloride 2.5 mg
Pharmaceutical form and contents :
Suppositories
Pack with 8 suppositories
Indications :
Hemorrhoids, particularly when accompanied with in-flammatory symptoms and bleeding, anal fissures, anal rhagades, anal pruritus, anal eczema, caused by anorectal conditions, wound treatment after procto- logical opera
Contra indications :
During pregnancy policresulen must be used only when strictly indicated, with due assessment of the risks to the mother and child. Studies in animals have not yielded any evidence of malformations. No studies are available on the risk of use during pregnancy in humans. It is not known whether the active ingredient passes into
milk. Patients with hypersensitivity to cinchocai e must not use
'Faktu suppositories unless expressly instructed to do so by the doctor. Effects on the ability to drive and to use machines According 'to the information available so far, when Faktu suppositories are used as prescribed do not af- fect the ability to drive or to operate machinery.
Interactions :
Unknown
Posology and method of administration :
Unless otherwise prescribed, the following dosage scheme applies. Please follow these instructions, otherwise there is a risk that the drug may not act
properly. Insert one suppository into the rectum 2-3 times a day,
after emptying the bowel, in the morning and in the evening and, if required, any time during the day. As the symptoms improve treatment can be continued with one suppository pe (jay.
Instructions for use / handling :
Insert suppositories deeply into the rectum.
Incorrect use and overdosage :
Not applicable
Undesirable effects :
The occasional discomfort (e.g. burning or itching) is caused by the active ingredient and in most cases dis- appears after a short time. There have been isolated cases of allergic contact sensitivity, manifested as in- matory reddening of the skin (erythema) with
the formation of vesicles (papules) accompanied by persistent itching (pruritus). .
If you experience any side effects, not listed in this package leaflet, please inform your doctor or phar- macist. Faktu Suppositories contain soya lecithin liquid. If you are allergic To soya or peanut, reter to you physician
Countermeasures :
If you experienced undesirable effects, stop treatment and consult your doctor.
Storage conditions and shelf life :
Faktu suppositories stored below 25°C.
Any variation in the suppositories colour or the pre- sence of light-coloured flecks (fatty deposits) are harmless and have no effect on efficacy.
Manufactured by :
Marcyrl for AUG
under license of NYCOMED