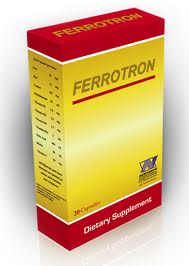 Ferrotron capsule
Composition:
Each capsule contains:
Iron                         15     mg
Zinc                         11     mg
Copper                    0.9    mg
Molybdenum         45     Ug
Vitamin B1             1.2     mg
Vitamin B2            1.3     mg
Vitamin B6            1.7     mg
Vitamin B12          2       U g
Folic Acid            400     Ug
Biotin                   30        Ug
Vitamin C           90     mg
Properties:
Ferrotron contains iron with multivitamins and essential trace elements needed
to maintain normal hemoglobin level, iron in Ferrotron is combined with amino
acids in order to facilitate its absorption without increasing the dose of iron, in
addition to several elements and vitamins essential for iron absorption.
Use:
Dietary supplement to improve some body functions.
Dose:
One Capsule per day.
Package:
Box containing 20 capsules.
Storage:
To be stored at room temperature.
Keep away from reach of chidren.
Manufactured by :
El MC United Pharmaceuticals for Nerhadou International for pharmaceuticals & Nutraceuticals