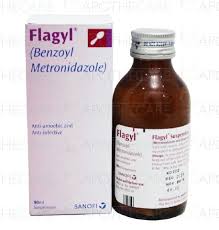 Flagyl® 125 mg / 5ml Oral Suspension
Metronidazole
IDENTIFICATION OF THE MEDICATION
Composition :
Metronidazole     2.5 g
(Corresponding to 4 g of metronidazole benzoate)
Excipients: monosodium phosphate dihydrate, methyl and propyl
parahydroxybenzoates, special magnesium silicoaluminate (veegurn), sucrose (3 glmeasuring spoon), sodium saccharin dihydrate, ethyl alcohol of 95 percent v/v, concentrated essence of lemon, essence of deterpenated sweet orange, purified water for 100 ml. Alcohol content by volume of the solution: 1 % (v/v).
Pharmaceutical Form and presentation :
Oral suspension (Bottle of 100 ml).
Ameasuring spoon (5 ml) corresponds to 125mg of metronidazole.
Pharmaco-Therapeutic Class :
Anti-parasitic antibacterial antibiotics of the nitro-5-imidazole family.
in which cases is this medication used :
This medication is indicated in the treatment of certain infections of sensitive germs (bacteria, parasites).
ATTENTION :
If your doctor has informed you about intolerance to certain sugars, contact him before taking this medication. In which cases not to use this medication:
– This medication must never be used in case of allergy to medications from the imidazole family (family of antibiotics to which belongs the metronidazole).
– This medication must generally not be used in association with disulfiram or alcohol (alcoholic beverages, medicines containing alcohol). In case of doubt, it is essential to seek the advice of your doctor or pharmacist.
Special warnings :
– Intake of alcoholic beverages during this treatment is not recommended because of the risk of reactions in the form of redness of the face, warmth, vomiting, or acceleration of the heart rate.
– You should stop the treatment and consult a doctor in case of occurrence of bad coordination of voluntary movements, occurrence of vertigo or confusion.
– Be careful when taking this medicine if you suffer from severe nervous disorders, whether chronic or in progress.
– This medicine contains small quantities of ethanol (alcohol), less than 100 mg per measuring spoon.
Precautions of Use :
– In case of history of blood disorders, treatment with a high dose and/or prolonged treatment, your doctor may need to regularly check your blood cell count through blood tests.
– In case of prolonged treatment, it is important to inform your doctor about the occurrence of nervous disorders (tingling, difficulty to coordinate movements, vertigo, convulsions).
– Due to the presence of alcohol, inform your doctor in case of liver disease, epilepsy or pregnancy.
– The use of this medication is not recommended in patients with intolerance to sucrose (a rare hereditary disease).
– This medication contains 3 g of sucrose per measuring spoon, which must be considered in the daily ration in case of low sugar diet or diabetes. If you are in doubt do not hesitate to ask your doctor or pharmacist for advice.
Medical Interactions and other interactions :
In order to avoid possible interactions between many medications, and especially with disulfiram and alcohol, you should systematically report any other ongoing treatment to your doctor or to the pharmacist. Taking this medication may disturb the results of certain laboratory examinations (treponema research) ; metronidazole may cause a false positive Nelson Test.
Pregnancy – lactation :
If needed, this medication may be taken during pregnancy. You should ask your doctor or pharmacist for advice before taking this medication. Avoid lactation while taking this medication.
Generally, during pregnancy and lactation, you should always ask your doctor or pharmacist for advice before using a medication.
Drivers and users of machines :
Attention should be taken, especially with vehicle drivers and machine users, to the risks of vertigo, confusion, hallucinations or convulsions, associated with the use of this medication.
list of excipients, the knowledge of which is necessary for risk-free use in certain patients :
Alcohol, sucrose.
HOW TO USE THIS MEDICATION
Dosage:
The dosage depends on the age and therapeutic indication. As a guide, the usual dosage is:
– in adult: from 0.5 g/day to 1.5 g/day,
– In child: 250 mg/day to 20-40 mg/kg/day.
In certain cases, your partner should be imperatively treated, whether or not he has clinical signs. In all cases follow the prescription of your doctor.
Mode and route of administration:
Oral route
Frequency and the time at which the medication should be administered:
2 to 3 times a day, according to the indications.
Duration of treatment:
To be effective, this antibiotic should be used regularly at the doses prescribed and also for as long as your doctor will advise. The disappearance of fever or any other symptoms does not mean that you are cured. The eventual feeling of fatigue is not due to antibiotic treatment but to the infection itself. Reducing or suspending your treatment will have no effect on this feeling and will retard your cure.
Particular cases:
The duration of treatment of giardiasis (parasitic infection) is 5 days; the duration of treatment of amoebiasis (parasitic infection) and of certain vaginitis (vaginal infection) is-Klays ; and that et- trichomoniasis (parasitic- infection) is 10 days.
Behavior in case of overdose:
In case of vomiting, difficulty to coordinate movements, disorientation, consult your doctor. He might prescribe a treatment for you.
UNDESIRABLE AND INCONVENIENT EFFEGS :
Like any active product, this medication may in certain persons cause more or less inconvenient effects:
*Digestive Manifestations:
– Nausea, vomiting, stomach cramps, diarrhea,
– lnfiammation of the tongue with a sensation of a dry mouth, inflammation of the mouth, metallic taste in the mouth, loss of appetite,
– Rarely, cases of pancreatitis (inflammation of the pancreas) reversible-upon discontinuation of the treatment.
– Manijesmtions on the level of skin and mucous membranes:
– Hot flushes with redness of the face, itching, skin eruptions sometimes accompanied by fever.
– urticaria (cutaneous eruption analogous to that provoked by a nettle sting), sudden swelling of the face and neck of allergic origin (Quincke's ederna), rarely shock of allergic origin.
* Nervous manifestations:
– headaches,
– darnage to the nerves of the limbs,
– convulsions, drowsiness, bad coordination of voluntary movements.
* Psvchic disorders:
-Confusion, hallucinations.
* Blood disorders:
-Very rare cases of abnormal low count of white blood cells or platelets in the blood.
* Manifestations in the liver:
– Very rare cases of reversible abnormalities of the liver profile and hepatitisdue to obstruction of the bile ducts.
* Other:
– Reddish brown coloration of urine due to the drug.
Report to your doctor or pharmacist any undesirable and inconvenient effects that is not mentioned in this leaflet.
STORAGE:
Do not exceed the expiry date for use indicated on the outer packaging.
Special precautions for storage :
Store at a temperature not exceeding 25° C.
Advices for health education :
What to know about antibiotics?Antibiotics are effective in combating infections caused by bacteria. They are not effective against infections caused by virus. Also, your doctor chose to prescribe this antibiotic to you because it suits precisely your case and your current disease. Bacteria have the capacity to survive or reproduce despite the action of an antibiotic. This phenomenon is called resistance: it renders certain antibiotic treatments inactive. The resistance increases by the abusive or inappropriate use of antibiotics. You risk favoring the appearance of resistant-bacteria and so delay your cure or even render this medication inactive, if you do not respect:
– The dose to be taken,
– The timing of administration,
– And the duration of treatment.
Consequently, to preserve the efficacy of this medication:
1)00 not use an antibiotic unless your doctor has prescribed it to you.
2) Respect strictly your prescription.
3) D0 not reuse an antibiotic without medical prescription even if you think to fight against an apparently similar disease.
4) Never give your antibiotic to another person as it may not be suitable for his disease.
5) Once your treatment is finished, return to your pharmacist all the remaining boxes for a correo.and acpropriate destruetion of this medicine
6) Keep medicines out of reach of children,
Package :
Carton box containing 100ml bottle and inner insert.
Produced by :
SANOFI Egypt s.a.e
Under license of SANOFI / France